COVID-19 ANNOUNCEMENT (UPDATED 14 MAY 2021)
In light of the recent announcement for tightened COVID-19 measures, all in-person AFCC programmes have been rescheduled and will be taking place online from 3-5 June. Most of our AFCC sessions that were already digital and will continue to take place as planned, and you will still be able to attend them online without any changes. Thank you for your continuous support for AFCC!
First hybrid edition of AFCC to take place 27-30 May 2021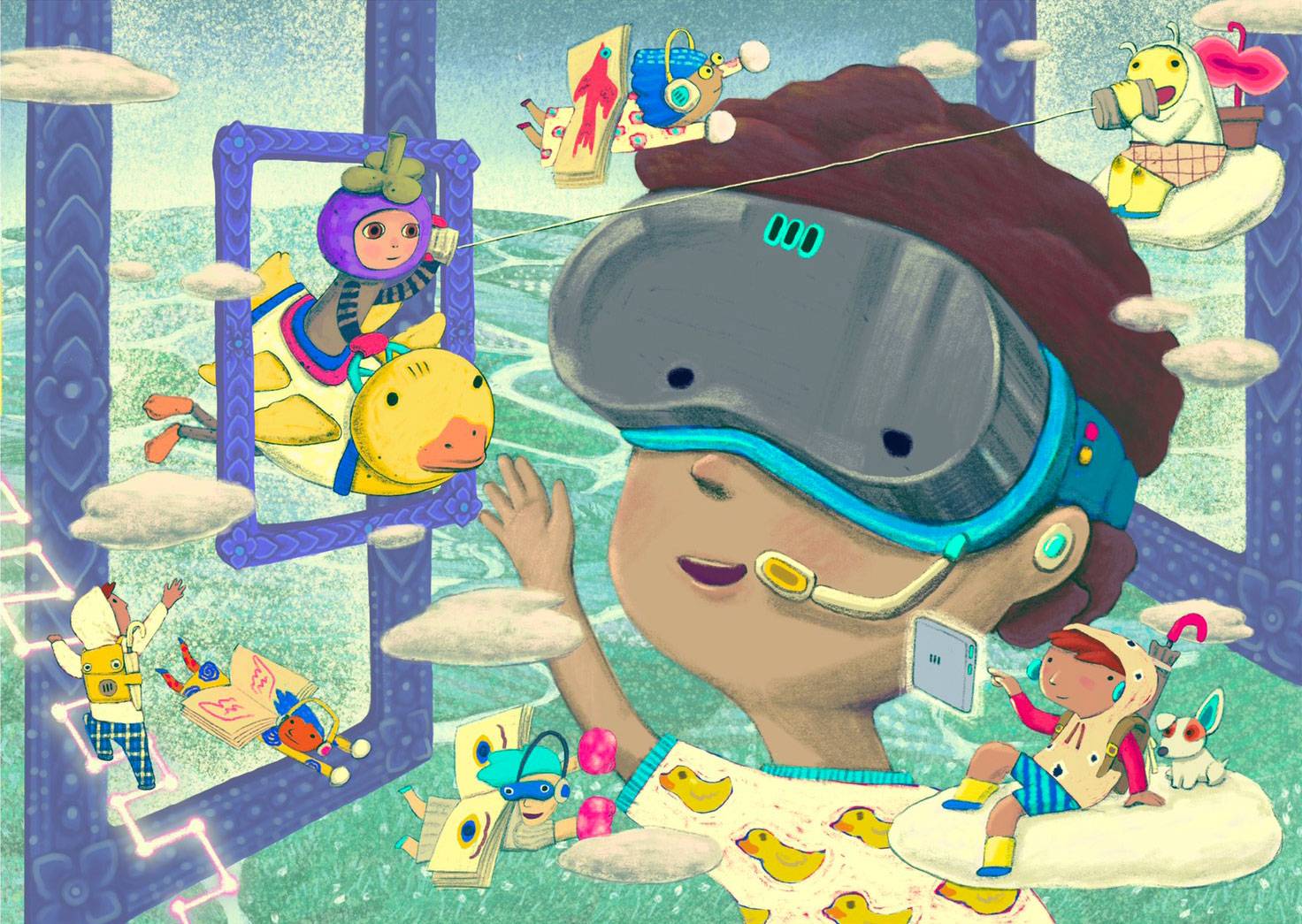 AFCC 2021 key visual by Kampanart Sangsorn
SINGAPORE, 20 April 2021 — After a year of disruptions and social distancing, the annual Asian Festival of Children's Content (AFCC) will be returning for its 12th edition from 27 to 30 May 2021 in a new hybrid format. The festival will roll out a blended format of online sessions and select in-person programmes, featuring more than 50 local and international speakers. Tickets are on sale now, with up to 25% discounts for group purchases during the Early Bird promotion until 30 April.
The festival celebrates the theme "Reimagine. Rebuild. Reignite.", inviting participants to explore and discover the future of stories in children's books and young adult (YA) fiction. Featured international speakers include two-time Newbery Honor winner Christina Soontornvat; New York Times - bestselling author Holly Black; renowned South Korean writer Hwang Sun-mi; author of the bestselling Gumiho series Kat Cho; Oscar-nominated animator and illustrator 山村 浩二(Koji Yamamura); notable translator Lawrence Schimel; and award-winning Taiwanese author and illustrator 刘旭恭 (Liu Hsu-Kung). Participants can look forward to virtual sessions with them and many more at the festival. In-person programmes will consist of a series of workshops that focus on writing about children with disabilities, storytelling through drama and dialogic reading.
As part of its continuing efforts to showcase Southeast Asia, AFCC will feature Thailand as the Country of Focus (COF) this year. AFCC has commissioned award-winning illustrator Kampanart Sangsorn to create the festival's key visual based on the theme. In partnership with the Publishers and Booksellers Association of Thailand (PUBAT), the COF programmes will spotlight trends in children's literature in Thailand; reading initiatives to promote literacy; as well as a window into the works of its writers and illustrators. In addition, the Singapore Book Council (SBC) and PUBAT will embark on a co-translation project to translate and publish selected children's books from both countries. These efforts aim to bolster intercultural understanding and literary collaborations between the countries.
This year's sessions will tackle many current topics, including writing about cultural and ethnic diversity; inclusivity and accessibility in literary arts; digital modes of reading, teaching and learning; mental wellbeing through books; the future of audiobooks; and the importance of translation. Other highlights include:
i) "Creating Magic Systems", a workshop on worldbuilding by New York Times - bestselling author Holly Black;
ii) "Joy of Reading: How to develop communities of readers", a lecture by Teresa Cremin, a Professor of Education at The Open University;
iii) "Crossing Borders: A Translation Roundtable", which features translators from different parts of the world discussing how to increase consumption of translated children's books;
iv) "Writing For and About Children with Disabilities", an interactive workshop by Hidayah Amin about providing opportunity for stories about, and for, children with special needs.
Please refer to Annex B for more information about the programmes and Annex C for speakers' bios.
The public can also look forward to virtual book launches, as well as the Book Illustrators Gallery (BIG). BIG will return as a digital exhibition for the second year, showcasing the best picture book illustrations from Asia and around the world. It received a record of more than 370 submissions this year, boasting new entries from countries such as Kazakhstan, Russia, Canada and France. BIG 2021 will be launched on the AFCC website from 21 May 2021.
AFCC 2021 is supported by the Embassy of the Republic of Korea, Kwan Im Thong Hood Cho Temple, Lee Foundation, National Translation Committee, Stephen Riady Foundation, Tote Board Arts Fund and the U.S. Embassy Singapore.
For more information, please visit afcc.com.sg.
Event details
Date: 27–30 May 2021. The complete schedule, including dates of in-person sessions; masterclasses and lectures will be announced in early May. Venue: Online (afcc.com.sg) and in-person. The physical venue will be announced in early May.
For media related enquiries, please contact:
Ethan Leong | [email protected] | +65 6342 5122