Reimagine, Rebuild and Reignite KidLit with
the AFCC 2021 Official Key Visual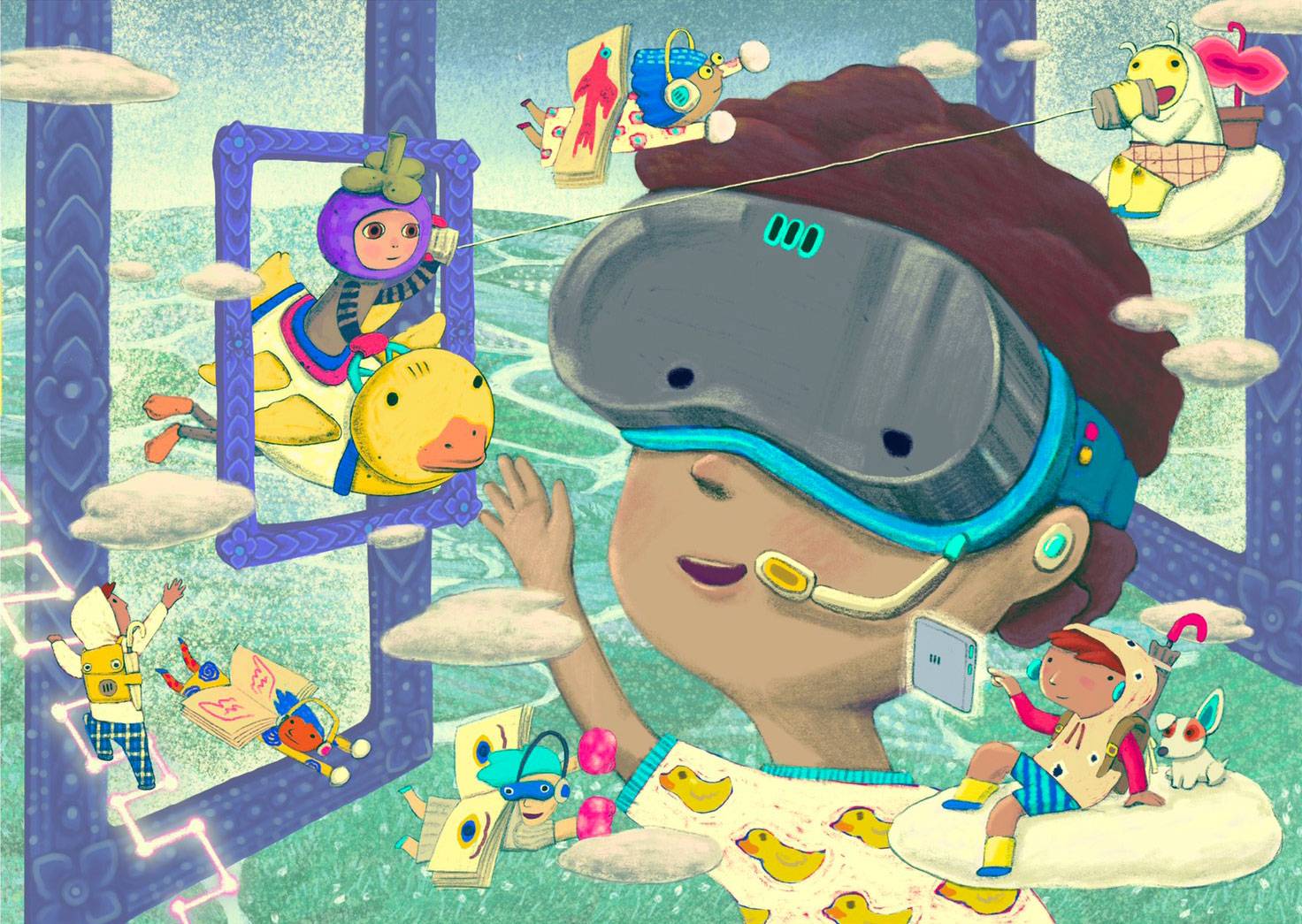 AFCC is proud to present the key visual for this year's festival, illustrated by Thai illustrator Kampanart Sangsorn.
AFCC 2020 celebrates the theme "Reimagine. Rebuild. Reignite.", where we invite participants to discover the future of content and uncover new possibilities at AFCC 2021!
We invited Kampanart to bring life to the theme of "Reimagine. Rebuild. Reignite", where his key visual would serve as the festival's identity and set its tone and character.
We wrote to Kampanart in an email interview, which was facilitated by our partners PUBAT, to find out more about his journey as an illustrator and the creative process that went into creating this year's key visual for AFCC.
1. What is your inspiration behind the key visual for this year's AFCC?
I imagine how we tell stories in the future. The VR glasses represent futuristic technology that enables story-telling with greater ease. For example, we can see the boy emerging from the frame. Many details portray "Thai-ness," such as the pattern of the frame, the mangosteen, which is a local fruit, and the boy's Southeast Asian skin tone. I also combined the kid's imagination of favourite superheroes and monsters with toys from yesteryear such as a telephone made of wire and milk cans. I want these stories to be lively, depicting the hopeful future.
2. What does this year's theme "Reimagine, Rebuild, Reignite" mean to you?
I believe that all creative work does not appear from nowhere. They are based on the artist's environment, beliefs, norms, politics, and cultural roots. Reimagining, rebuilding, or reigniting allows the creator to tell their story intimately without coercion. In my country, Thailand, the word "culture" has been interpreted narrowly with a strong nationalist perspective because of the state's conservativism. Thus, reinterpreting culture while conforming with modern society is complicated. What's left is more of a retelling of the same stories with new forms or new techniques, without relevance to today's situation.
3. What is the concept behind the (elements in your) illustration?
I chose the kid as a focal point, making it jump out at the viewer. While the minor characters' movement was enhanced with the use of lines to liven the illustration. At the same time, the cold colour tone scenery exudes a sense of tranquility and hope, which is necessary in these times.
4. How would you describe your art style and how was it incorporated in the illustration?
I don't have a particular style. I like to adapt to each project. I enjoy inventing characters while designing colour schemes, leaning towards a fantasy setting. These elements are more often present in my work.
5. Who is your role model in your work with illustration?
I like and admire the work of Sina Wittayawiroj, a Thai artist who manages to present contemporary social issues cleverly. Considering how traditional Thai society is, I find his work very brave and of great value to society.
6. What are some challenges you have faced in your career and what motivated you to continue illustrating?
My major challenge is balancing personal preference and commercial demands, which probably applies to most Thai artists. The government doesn't recognize the actual value of this sector. They have a narrow-minded definition of "culture," supporting only the works they find "right." Thus, we must find other ways to make a living, such as creating works assigned by the private sector, which sometimes also demands conformity with the government's values. I believe that's the main reason why Thai art lacks diversity. This is why I try to create the kind of work I believe in, and have it published on foreign platforms. Sometimes they sell, sometimes they don't, but I get to do what I want.
Another obstacle for me is my poor command of the English language. It's not easy for me to communicate in English, but I'm trying to improve.
I'm still illustrating because it's something I'm good at, and I'm still happy doing it. I have time for myself, and I can make a living doing it.
7. What advice do you have for aspiring illustrators?
I want every artist to be serious and sincere. Always balance yourself and the commercial world. This is a reminder to myself as well.
8. What message would you like people to take away from your illustrations?
I want the viewers of my work to feel joy and happiness. If it pleases them, that would be enough.
About Kampanart Sangsorn
Kampanart holds a bachelor's degree and a master's degree in painting, sculpture and graphic arts from Silpakorn University. Having worked as an independent illustrator for 6 years, he has written and illustrated more than 20 children's books for Thai and foreign publishers. Kampanart dreams of having the opportunity to create different kinds of illustrations and also to illustrate his own stories. He won the 1st ASEAN Book Illustrator Award of Excellence in 2017.