Enhance your knowledge and develop your skills by participating in our masterclasses.
Each masterclass session is ticketed individually.
AFCC Digital Pass holders enjoy a discount of 10% - 15% off regular prices for AFCC Masterclasses. Purchase an AFCC Digital Pass and receive the discount code in your confirmation email.
29 May (Saturday)

•

Rebuild
An essential part of worldbuilding, your magic system defines your world thematically and is part of the underpinnings for your story. A better understanding of your magic system can deepen your understanding of your characters and their journey. Come create a system that will be internally consistent, dynamic, with real-life parallels to our own world, and most importantly — story generative.
This programme is supported by the U.S. Embassy Singapore.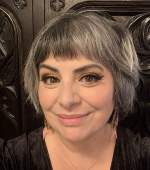 Holly Black (US)
Holly Black is the #1 New York Times bestselling author of over 30 fantasy novels for kids and teens. She has been a finalist for an Eisner and a Lodestar Award, and the recipient of the Mythopoeic Award, a Nebula, and a Newbery Honor. Her books have been translated into 32 languages worldwide and adapted for film. She currently lives in New England with her husband and son in a house with a secret library.
10 June (Thursday)
update: Due to unforeseen circumstances, this session has been cancelled.
What makes a good chapter book and middle-grade book? What are the key points that writers and publishers need to keep in mind when creating content for readers aged 5-12? Learn more about the world of children's fiction and pick up useful tips and techniques in this masterclass, which will include exercises geared towards those who wish to write for this age group.
Please note that this masterclass was previously listed for 3 June, Thursday, but the date has now changed to 10 June, Thursday. 
Fiona Scoble (UK)
Fiona Scoble is Senior Editor in the fiction department at Nosy Crow, a multi-award-winning, independent children's book publisher, where she edits books for children aged 5-12. Prior to this, after studying English at the University of Cambridge, Fiona worked as a journalist and arts project manager before joining Macmillan Children's Books in 2013, where she managed the Macmillan Prize for Illustration and worked on commercial picture books.