The 6th Bai Meigui Translation Competition
Join us for the online launch of the winning entry from
the 6th Bai Meigui Translation Competition

Sleepy, Sleepy New Year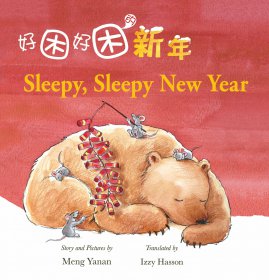 Date: 26 September 2020 (Saturday)
Time: 7pm (SGT) / 12pm (UK)
Livestreamed on AFCC Facebook
Bao Bear has never heard of Chinese New Year. He decides to invite the Fox, Mouse and Bunny families together to learn more about this celebration.
However, as the end of autumn nears and Bao Bear gets sleepier, can he stay awake to find out?
The Bai Meigui Translation Competition is a Chinese-English translation competition run annually by the Leeds Centre for New Chinese Writing, at the University of Leeds. The competition aims to introduce Chinese writers to English readers, and develop literary translators working from Chinese to English.
We are delighted to announce the results of the
6th Bai Meigui Translation Competition!
1st place: Izzy Hasson (Benenden School, Kent)

2nd place: Chong Pin Shin (River Valley High School, Singapore)

3rd place: Zoe Lambert (City of London School for Girls)
After receiving mentoring from Helen Wang, current holder of the Marsh Award for Children's Literature in Translation, the winning entry will be published later this year as a bilingual picture book, with Balestier Press and launched online. More details on this will be made available at a later date.
We are also pleased to share the judges' general feedback on this year's entries for the competition:
We were very impressed by all the translations we read. Picture books may look easy, but they can be incredibly difficult to translate. The text and illustrations work together – often an adult will read the story aloud, while a child listens and reads the story through the pictures. The storytelling and language are particularly important – there is onomatopoeia, repetition, humour, and, perhaps most challenging of all in this book, the culturally specific things that are so familiar to Chinese readers but may be completely new to many English-readers.

Our translators had to think carefully and creatively from the very first page. In Chinese the bear's name is Bao Xiong; some of our translators kept the pinyin name, others chose Treasure Bear (a direct translation), Teddy, Honey Bear, Bao Bear, Bao Bun Bear, Po the Bear, Caspar (Persian, for treasure keeper) and Ruby. Is the bear male or female? The Chinese text doesn't say, but English forces us to choose a gendered pronoun. Then there are the ingot-shaped jiaozi (dumplings?), the spring couplets (banners?), the paper-cuts for the windows (decorations?), the suona (trumpet?), all the terms for Chinese New Year, and the Chinese writing in the pictures ("Forest-pedia" was a great suggestion). Decisions, decisions...
The judges also shared their thoughts on the three winning entries*.
Below are some of their selected comments:
First Prize: Izzy Hasson (Entry No. 3)
I was looking for competent translations, plus translations that "touched" me (e.g. made me smile) or that tackled the difficult/culturally specific parts well or showed a creative thinker. I was looking for a translator that I "felt" I could work with towards a final version. My overall favourite was no. 3, because there was something about it that made me smile.
Despite some minor issues with accuracy, I felt no. 3 delivered what came closest to the cadence of an engaging children's book. There was something light about the prose, and would have sounded enjoyable when read aloud.
Second Prize: Chong Pin Shin (Entry No. 27)
I commend No. 27 for its sharp grasp of the meaning of the original Chinese text.
Third Prize: Zoe Lambert (Entry No. 49)
Translating onomatopoeia is always a challenge. The writer here managed to do so in a way that retained a certain Chinese-ness while making the story more accessible for wider audiences. Overall, it was also a thoughtful and charming attempt.
*N.B.: all entries were anonymised before passing to the judging panel.
Congratulations to the winners and their schools and many thanks to everyone who took part! We would also like to thank the judges for completing a formidable task, particularly during this difficult period under COVID-19 restrictions.
Following the success of the Bai Meigui Translation Competition in 2018 – its first picture book competition – the Leeds Centre for New Chinese Writing is delighted to announce that the competition will again be open exclusively to students in secondary education (between 11 and 18 years old), and will be run in partnership with the Singapore Book Council and Balestier Press. The competition is free to enter and provides a fantastic opportunity for students learning Chinese.
To find out more about the competition, read what what the winner of The 4th Bai Meigui Translation Competition – Jasmine Alexander – has to say about her own experience.
This year's text is written and illustrated by acclaimed author Meng Yanan 孟亚楠, winner of China's 2016 Bronze and Sunflower Picture Book Award.
To view the story, please click on the book cover image below.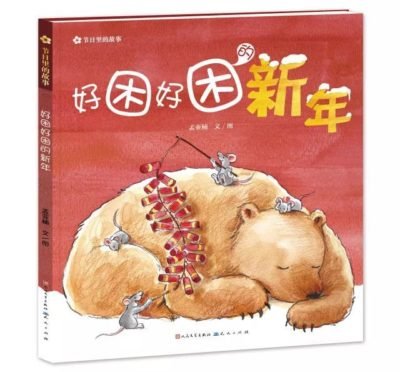 Here is an audio-recording of this story by Meng Yanan:
The winning entry will have the chance to be mentored by award-winning translator Helen Wang, and to see their translation published in a bilingual edition of the text by Balestier Press. The winning book will be marketed at the festival, and to schools and libraries throughout the UK, Singapore, and worldwide.
We're honoured to have a panel of award-winning translators and experts on children's fiction to judge our competition.
Minjie Chen is an expert on children's literature, and is a librarian working with the Chinese collection of the Cotsen Children's Library at Princeton University. She is also one of the co-founders, along with Helen Wang, of the wonderful website on Chinese children's literature, Chinese Books for Young Readers.
Colin Goh is an award-winning film-maker, humourist, and is the co-writer and illustrator of Dim Sum Warriors, a graphic novel series about kungfu-fighting dumplings. It was recently adapted into a major musical in China. He also compiled the bestselling Coxford Singlish Dictionary.
Helen Wang has translated Cao Wenxuan's Bronze and Sunflower, among many other things, and she won the 2017 Marsh Award for Children's Literature in Translation, as well as the Chen Bochui Special Contribution Award for translation and increasing visibility of Chinese children's literature.
We would like to thank Meng Yanan and Daylight Publishing House for giving us permission to use the text.
For any enquiries, please email us at [email protected].