Our Folktales: The All-time Favourite Folktales of Asia Book Launch
| | |
| --- | --- |
| Date: | 3 October 2020 (Saturday) |
| Time: | 6:30pm – 7:30pm (SGT) Convert Time |
Rediscover the magic of Asia's most beloved and popular folktales in this one-of-a-kind compilation featuring stories from AFCC's past Countries of Focus (COF).
The book launch was held and live-streamed on the Asian Festival of Children's Content (AFCC)'s Facebook on 3 October 2020 at 6.30pm.
What started as a response to a simple call for regional partnership has now burgeoned into a special compilation of all-time favourite folktales that spans across shared narratives and underlines cultural cohesion among contributing nations.
A regional collaborative project across eight former Countries of Focus of the Asian Festival of Children's Content (AFCC), Our Folktales: The All-time Favourite Folktales of Asia features eight beloved and popular illustrated stories from China, India, Indonesia, Japan, Malaysia, Myanmar, Philippines, and Singapore, compiled and adapted in both print and digital formats.
This is a collection of timeless folktales that will surely excite both the young and young at heart, as they traverse through mystical forests of imagination, oceans of wonder and awe, and lands beyond that feel close to home. Purchase the book at AFCC's official festival bookstore, Closetful of Books.
ABOUT THE FOLKTALES | ABOUT THE EDITOR | ORDER THE BOOK
"This book illustrates the diversity and wonder of Asia through stories that have been passed down through generations... So many popular children's books tend to be from the West, so it's nice to be pulling from what's around us."

- Ruth Wan-Lau, editor of Our Folktales (South China Morning Post)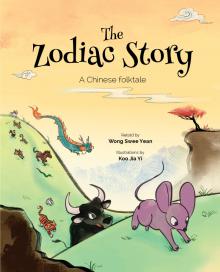 CHINA: The Zodiac Story
In Chinese culture, a calendar year is marked by an animal from the Chinese zodiac in a repeating cycle of 12 years. How were the 12 animals in the zodiac decided? A great race was declared among all the animals. The race was exciting, with each animal demonstrating unique characteristics and determination to be represented in the zodiac.
This folktale appeals to young and old because of the many animal characters as well as the exciting race theme. The story is an important aspect of Chinese cultural heritage as it explains why each lunar calendar year is represented by an animal. For many ethnic Chinese people, the animal sign that they belong to is just as important as their birthdate. They feel proud to bear the personality traits of that animal. As they get older, they may not remember their exact age, but they will certainly remember their zodiac sign and it is not a difficult task to calculate the age of a person based on his zodiac sign. The tale of the Chinese zodiac has been passed down orally in China and around the world. It also has many printed versions and can be found in many languages.
Retold by Wong Swee Yean / Illustrations by Koo Jia Yi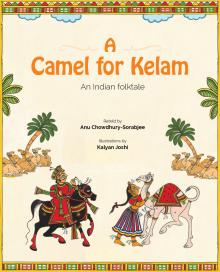 INDIA: A Camel for Kelam
Pabu, a Rajasthani chief, loves animals and his niece, Kelam. One day, Kelam tells Pabu that she wants a camel for her birthday, so Pabu sets off to Lanka in search of one. But, after braving a storm, he finds himself in Persia, and befriends the king there. He learns all about camels, and returns with a baby camel for Kelam, just in time for her birthday.
The form of painting used in the book is Phad painting and Kalyan Joshi is the 30th generation artisan to practice this art form which is slowly disappearing. The story A Camel for Kelam is based on one of the two main Rajasathani folk epics, the Epic of Pabuji. In the original story, Pabuji was a 14th-century Rathor prince, born from a celestial nymph who promised to return to him in the form of a mare when he was 12. One of Pabuji's early exploits was to fight the Khici clan, which had encroached on his country's borders and was treating him and his brother arrogantly. He acquired a black mare from Lady Deval of the Caran clan. Pabuji overthrew Mirza Khan, arranged for the marriage of his niece, and stole a herd of she-camels from Lanka, for his niece Kelam.
Retold by Anu Chowdhury-Sorabjee / Illustrations by Kalyan Joshi / Publishing Partner: Pratham Books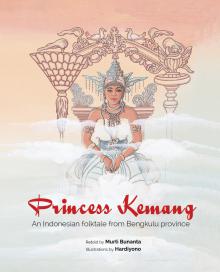 INDONESIA: Princess Kemang
For many centuries, Indonesian folktales have taught the equality of women and men. The story of Princess Kemang from Bengkulu Province in Sumatra Island is about an independent princess who, fond of hunting, fishing and hiking in the woods, eventually becomes a soldier. Once, in a dense forest, she spoke to a tree which then changed slowly into a handsome prince. Later, the two married and Princess Kemang became the ruler of her kingdom.

The story of Princess Kemang has been published in the US and Canada in English, and has been translated into Mongolian and German. This is a relevant story for the current and future generations everywhere to learn about the equality of women and men. The source of this story comes from a documentation project from oral retelling, Folktales from Bengkulu published by the Department of Education and Culture, Inventory and Documentation of Regional Culture Project, Jakarta, 1982.
Retold by Murti Bunanta / Illustrations by Hardiyono / Publishing Partner: Kelompok Pencinta Bacaan Anak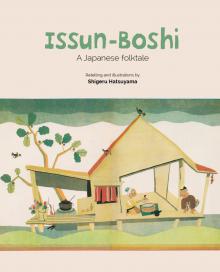 JAPAN: Issun-Boshi
Issun-boshi is a tiny boy, no taller than one sun (3 cm), but he is brave and spirited. With a needle as a sword, he rides down the river in a wooden bowl to find work in the capital. A lord hires him to guard his daughter, the princess. During an outing, the princess is attacked by ogres and Issun-boshi saves her. The ogres leave a mallet, or hammer, behind. The mallet is magical and it will change Issun-boshi's life forever.
The original version of this picture book was published in 1929 at a time when modern Japanese picture books were emerging. The story itself is from the 14th century and is still loved in Japan today. The illustrations are by Shigeru Hatsuyama, an artist who was active in children's books and woodblock prints from the 1920s to the early 1970s. His style is reminiscent of Japanese modernism while his illustrations continue to captivate readers after 90 years. We believe picture books are cultural assets; they are entities that transcend time and bring everlasting joy to children and adults.
Retold & illustrated by Shigeru Hatsuyama / Translation by Naomi Kojima / Publising Partner: Chihiro Art Museum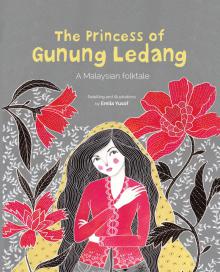 MALAYSIA: Princess Gunung Ledang
The beautiful Princess of Gunung Ledang lived happily on the top of the mountain, Ledang. When the powerful Sultan of Melaka came courting, the princess had to think of a way to reject his proposal. She came up with dowry requests that she felt sure the Sultan would not be able to fulfil. Alas, the Sultan fulfilled all six requests and was ready to claim his prize when the Princess came up with a seventh request: a bowl of the royal prince's blood.
The legend of Puteri Gunung Ledang (Princess of Gunung Ledang) was first recorded in Sulalatus Salatin (Genealogy of Kings), a historical work of literature of the Malay Sultanate in the fifteenth and early sixteenth century. Better known as the Malay Annals or Sejarah Melayu today, it was originally written in Classical Malay in old Jawi script. The manuscript has been rewritten and translated, and it can be found in libraries around the world, including Malaysia, Singapore, Indonesia, UK, and the Netherlands. In 2001, the Malay Annals was listed in UNESCO's Memory of the World Programme International Register, in recognition of the need to preserve this precious piece of heritage.
Retold & Illustrated by Emila Yusof / Publishing Partner: Linda Lingard Literary Agency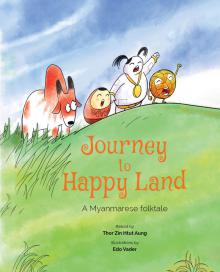 MYANMAR: Journey to Happy Land
This is a story about displaced toys searching for a place to live happily and safely, away from the war zone. During their journey, they meet a cat who warns them that some toys will try to prevent these traditional toys from entering Happy Land. So, the displaced traditional toys have to fight to enter Happy Land.
In this folktale, Pu Lone is a pyit taing htaung, a traditional Myanmarese toy made of paper. Each time a pyit taing htaung is thrown or pushed down, it stands back up, thus symbolizing resilience, perseverance and the ability to overcome defeat. Pu Lone's friends, Pho Wa Yote, Chinlone Nga Nyo and Nwa Gyi, are all traditional Myanmarese toys too. The author of this story aims to promote the value and importance of peace. It is this folktale's hope that through this story, readers will come to learn of the important values and ideals for not only our Myanmarese children, but for children everywhere in the world.
Retold by Thor Zin Htut Aung / Illustrations by Edo Vader / Publishing Partner: Third Story Books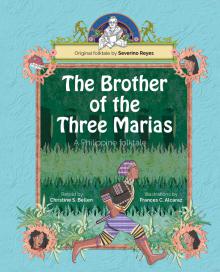 PHILIPPINES: The Brother of the Three Marias
After cutting down a magical kolesmeloko tree for profit, Teong the folk healer, accidentally sets a giant serpent free. As punishment for his greed he must give away his three daughters, Maria Upeng, Maria Loleng, and Maria Upeng, to three powerful kings. Many years pass and the youngest child, Pedro, journeys across different realms in an effort to find his sisters and reunite his family.
The original text of the story was written by Severino Reyes for Liwayway, the literary magazine of its day. After watching children gather at the feet of Gervasia Guzman de Zamora or "Tandang Basiang" to hear stories at Zamora House during dinner parties, Reyes became inspired to make children's stories of his own under the pen name, Lola Basyang. It was Reyes' aim to take the western fairy tale format and repackage it for a Filipino audience while imbuing each story with lessons that resonate with our values.
Retold by Christine S Bellen / Illustrations by Frances C Alcaraz / Publishing Partner: Anvil Publishing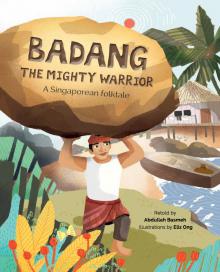 SINGAPORE: Badang The Mighty Warrior
Badang, a poor labourer, uses his wits to gain super strength and freedom from his master. The Raja of Singapura hears reports about this strongman, and summons Badang to his kingdom. With his quick mind and strength, Badang becomes legendary as the undefeatable royal warrior, defending his King and country's honour. Among his many challenges, Badang lifts a gigantic boulder, and hurls it to the mouth of the Singapore River.
The story of Badang is among the tales of Singapore legends found in the literary work, Sejarah Melayu, or Malay Annals. The earliest version of these records, Sulalatus Salatin (Genealogy of Kings), was written in classical Malay in Jawi script in the 15th–16th century. Pustaka Nasional published the story of Badang as Hulubalang Gagah in 1963. It was part of a Malay Fables Series for young readers to appreciate selected narrations from the Malay Annals. The series was edited by Abdullah Basmeh with illustrations by the late S Mohdir (Haji Mohamed Haji Adbul). The English translation, The Mighty Warrior, was published in 2015.
Retold by Abdullah Basmeh / Illustrations by Eliz Ong / Publishing Partner: Pustaka Nasional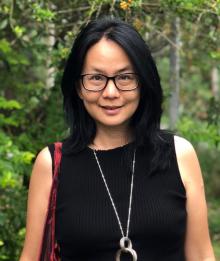 Ruth Wan-Lau
Ruth Wan-Lau is the author of the bestselling Timmy and Tammy series, which has the honour of being the only children's book series chosen to be part of the SG50 Baby Jubilee Gift Pack, given to all Singaporean babies born that year. Her Timmy and Tammy books were also presented to Princess Charlotte Elizabeth Diana by President Tony Tan to commemorate the royal birth. She has worked in public communications and as a writer, editor and publisher of children's books for over 20 years. Ruth is currently the Publisher at World Scientific, heading the Children's & Education Department.