CELEBRATE KIDLIT WITH
AFCC 2020 OFFICIAL KEY VISUAL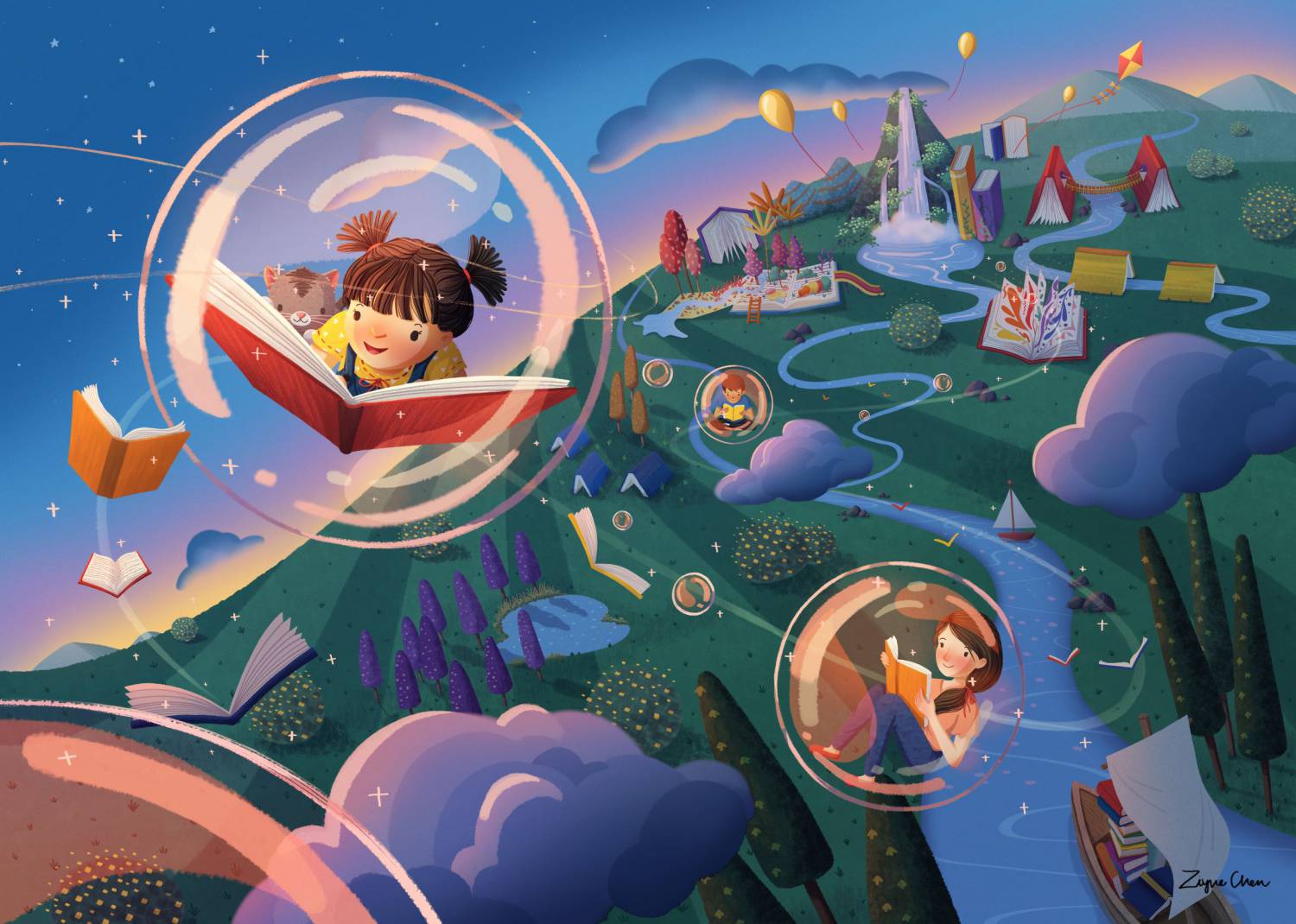 AFCC is proud to present the key visual for this year's festival, illustrated by Singaporean illustrator Chen Ziyue.
AFCC 2020 celebrates the theme "Voyages", where we invite participants to envision a world filled with possibilities even as we are facing many challenges and much uncertainty now. We aim to traverse boundaries, redefine narratives and discover new truths, as we embark on a digital journey of exploration to be immersed in a world of stories for children and young adults.
We invited Ziyue to bring to life the theme of "Voyages", where her key visual would serve as the festival's identity and set its tone and character.
Ziyue's whimsical and colourful illustration style, along with her keen sense and interest in using pictures and illustrations as a storytelling medium drew and resonated strongly with the festival team.
The passion she brings to her craft and her inspirational journey in pursuing a career in illustration strengthened our belief that she would be ideally suited to express the festival theme as an illustration. To discover more of Ziyue's other illustrations, view her profile in the Book Illustrators Gallery here.
We sat down with Ziyue over an email interview to find out more about her journey as an illustrator and the creative process that went into creating this year's key visual for AFCC.
1. What got you started in illustration?
It was through personal life experiences, exploration and drawing that led me to discover my keen interest in illustration. I'm drawn to how you can tell your story and connect with the viewer emotionally through an illustration.
2. Would you be able to share how, in spite of the physical and social challenges, you were able to find an effective way to communicate and eventually pursue a career in illustration?
Without challenges, I'd not be where I am now. When I first started drawing, I played around with different mediums of art which my Mum introduced to me and I was greatly comforted by it. Growing up deaf, art helped me to forget my struggles and frustration with verbal communication. Along the way, I liked the idea of how one can communicate with the viewer through art, as well as to tell a story. From there, I decided to delve deeper into illustration which led to me pursuing a career in the field. It was quite a difficult path, but if you have the passion and a strong sense of curiosity, you would not mind the constant hard work. The most important thing is to have faith in yourself.
3. How would you describe your art/illustration style and how did you inject your personality into the piece?
I think my illustration style is best described by the viewer. We should not worry so much about the style or attempt to find it. Keep drawing and your style will naturally evolve. Having your own voice is a lot more important than thinking about your style.
4. Is there a favourite medium that you like to work with?
I like playing around with different mediums. However, for my work, I tend to start off working with a pencil or pen in a sketchbook, followed by Adobe Photoshop. Occasionally, I use Procreate for drawing. For outdoors and travel, I like working with a pencil, Sakura micron pen, watercolour and occasionally colour pencils.

I'd like the viewers to be able to connect with my illustration that they are also on their voyage when they read books.
5. How did you interpret the theme of "Voyages" in the illustration?
I interpreted voyages in a mind-mapping concept, throwing in all the words related to "Voyages" like adventure, dream, playground, travel, surprise and so on. From there, I played around in sketches, toyed with different ideas and did some research.
6. Do you feel that the theme (Voyages) is something that would resonate with people?
I think so as our life is somewhat likened to a voyage of personal discovery and a journal of thoughts.
7. What do you feel is the role of art and artists and the importance that children's literature has in a time like this?
Art and children's literature allow the reader to take a break from daily tasks and be whisked away into the story they are reading. When art and children's literature portray a character in the story, the viewers can relate to the character. It can give a sense of hope and encouragement. It can also either comfort or show them that they are not alone in dealing with their personal struggles. Every different type of story somehow reflects values in life.
Given the high prevalence of social media, artists can create and share art based on their personal experience or what they read on other people's stories. Everyone has the potential to influence and entertain the viewer in all forms of art and media. In a difficult situation like COVID-19, I've seen how other artists on social media create work to cheer up people in healthcare, to inform and raise awareness of preventive measures, and to create work based on their emotional experience to connect with others.
8. Is/Are there a/any illustrator(s) that you look up to for inspiration or as role model(s)?
My Mum, Mabel, Mary Blair, George Wolfe Plank, Eyvind Earle, Gustav Klimt, Shaun Tan, Oliver Jeffers, Jon Klassen, Julia Sarda and so many more.
9. Do you have any advice for budding illustrators?
Keep creating, learn from mistakes, have faith in yourself and take care of your health.
(Don't) worry so much about the style or attempt to find it... Having your own voice is a lot more important than thinking about your style... The most important thing is to have faith in yourself.
10. What message would you like viewers to take away from your illustration?
I'd like the viewers to be able to connect with my illustration and feel that they are on their own voyage when they read books. The flying books, glistening bubbles, soothing nature and imaginary book landscape are meant to portray the magical feeling of being in a different world that enriches their mind and soul, and leaves a smile in their hearts.
About Chen Ziyue
Ziyue aka Angeline, is a Singapore-based illustrator who enjoys storytelling through illustrations and working on mostly children's books. Her life's goal has been to have an emotional connection with those who view her work. Mixed nuts, goji berries and avocados are her favourite snacks.
Instagram: @ziyuechen
Facebook: @ziyuechenart
Website: www.ziyuechen.com