Rights Exchange
| | |
| --- | --- |
| Date: | 18 May 2017 (Thursday), 9:00am – 1:00pm |
| Venue: | The Pod (NLB L16) |
| Registration Deadline : | 15 Mar 2017 |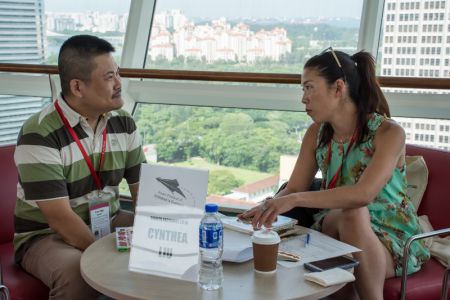 Now on its fourth edition, the Book Council brings back its very own Rights Exchange (RX). Publishers and agents from across the Asia Pacific region come together for a unique opportunity to sell and/or exchange book rights and translation rights, negotiate co-publishing deals and other agreements.
Aimed at becoming the centre for regional and international rights business, the RX showcases a platform publishers and literary agents to engage in possible collaborative projects on translation, digital and print publishing and co-publishing, and other derivative works in multimedia.
The RX is a structured session of 30-minute pre-arranged appointments for publishers and agents to connect and discuss their rights negotiations. Attendees need to be registered delegates or exhibitors to be able to buy and/or sell at the RX. The platform creates a unique opportunity for publishers to meet each other one-on-one to tentatively finalise agreements and interests in the sale/transfer of rights.
Participants must have the rights to sell any of the following:
unpublished/published manuscripts;
translation projects;
license/rights for secondary publishers to reproduce the manuscript in print, microform or any digitally readable form, including but not limited to e-pub and electronic online databases; and, license/rights to reprint through third parties for manuscripts, translations and other derivative works based on a manuscript.
Registration
To register for Rights Exchange, simply read through the guidelines and email Carlo at [email protected].
Registration deadline: 15 March 2017
Book an Appointment
Book an appointment with one of the participanting publishers, self-publishers, rights agents, and content developers below.
Deadline: 24 April 2017
Rights Exchange Schedule Meeting Form
List of Participants
To book an appointment to sell rights of your children's book/content to one of the participating publishers and agents, email Carlo at [email protected] by 10 April 2017. The list of the first batch of participants is included below, and the list will be updated accordingly within the next few weeks.