Speed Pitching (Writing)
| | |
| --- | --- |
| Date: | 17 May 2017 (Wednesday), 2:00pm – 4:15pm |
| Venue: | The Pod (NLB L16) |
| Registration Deadline: | 14 April 2017 |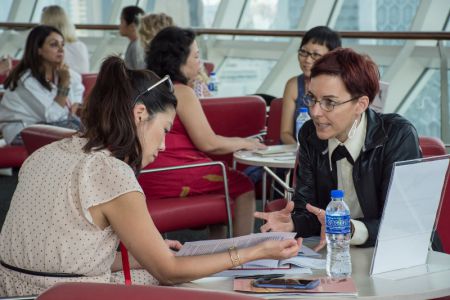 Ever wanted to have 5-10 minutes to pitch your children's books ideas to literary agents and publishing representatives from around the region?
Open to delegates participating in the Writers & Illustrators Conference. To register for a Speed Pitching (Writing) slot, simply complete the form below and send it to Huda at [email protected].
Application deadlines: 14 Apr 2017
Panellists

Panellists

Petra Nagyová Džerengová
Author, News and TV-journalist and Founder of Verbarium

Looking for: Fiction for children and YA from around the world. Classic and modern stories are accepted though picturebooks are preferred.

Andrea Pasion-Flores
General Manager, Anvil Philippines, Inc.

Looking for: Middle-grade books.

Lydia Leong
Publishing Manager, Marshall Cavendish

Looking for: Young adult's fiction and children's illustrated books.

Cynthea Liu
President, Starts With Us, Inc.
Executive Director of the Bryan Johnson Foundation

Looking for: Titles that encourage youth to make a positive impact on the world by pursuing their talents and interests. Open to children's books of any format, age range and genre. Interested in books with diversity of all kinds.

Yong Shu Chiang
Director and Commissioning Editor, Bubbly Books

Looking for: Middle-grade children's fiction series and YA fiction series.