Speed Pitching (Media)
| | |
| --- | --- |
| Date: | 19 May 2017 (Friday), 2:00pm – 4:15pm |
| Venue: | The Pod (NLB, L16) |
| Registration Deadline: | 3 May 2017 (The dead has been extended from 14 Apr 2017) |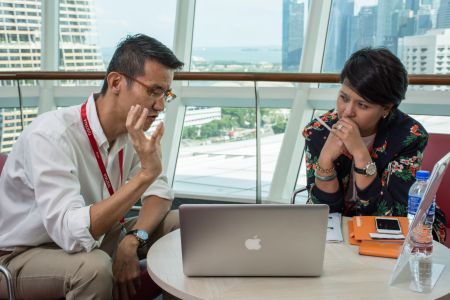 Here's a chance to get your ideas commissioned! Whether it is an idea for a television series, web series, transmedia project or an interactive app, sign up for a pitching slot and have 5–10 minutes to sell your ideas to our panellists!
Open to delegates participating in the Cross-Platform Summit.
Please note that it is compulsory for all selected Speed Pitching (Media) applicants to attend Pitch Perfect. The Ultimate Pitch-Ready Workshop! from 2:00pm - 4:15pm on 18 May (Thursday). More information about the workshop can be found on the Cross-Platform Summit webpage.
Application deadline: 3 May 2017 (The dead has been extended from 14 Apr 2017)
Panellists

Justin Deimen
Group Managing Partner, Aurora Media Holdings Inc.

Looking for: Television or film projects (live-action or animated) targeted at any age range; any genre

Jyotirmoy Saha
Founder and CEO of August Media Holdings

Looking for: TV Shows, Digital Applications and Online Concepts in standalone or series formats for children aged 7-11. Opento curriculum-based and entertaining concepts, but the content must be driven by fun.

Leslie Lee
Executive Director, Programming, Branded Media and Content, Walt Disney Company

Looking for: Animation for children aged 6-14 in Southeast Asia, with an emphasis on comedy. Definitely NO live action, factual or info-educational.

Sanoop Luke
Youtube, Content

Looking for: Content targeting children aged 2-13 in Southeast Asia and globally. All genres welcome. Preference for creators/producers who have concepts with high volume (26+ episodes of 5+ minutes each).

Ryo Leong
Senior Director, Programming, Youth Segment, MediaCorp Pte Ltd

Looking for: Television shows (live-action or animated) targeted at 7-12-year-olds; educational entertainment with themes of exploring, experimentation, and values and character development.

Karen Tang
Senior Manager, Content & Multiplatform Programming for Nickelodeon, Southeast Asia, Viacom International Media Networks

Looking for: Animation series that resonate well with kids from Asian markets, but has a global appeal with universal storylines and values

Age 4 to 11 and Gender Neutral

Comedy Driven Animated Shorts (Series) - 1 to 3 mins per episode / 10 to 12 episodes per series

Age 6 to 10 and Gender Neutral

Comedy Driven Animated Series - 11 or 12 mins per episode / 26 eps per series
Live-Action Series that could well work for Asian markets. Format / Concept is currently open.