Celebrating Our Stars
| | |
| --- | --- |
| Date: | 17 May 2017 (Wednesday), 7:00pm – 9:00pm |
| Venue: | The Pod (NLB, L16) |
| Registration: | Free admission for delegates and speakers |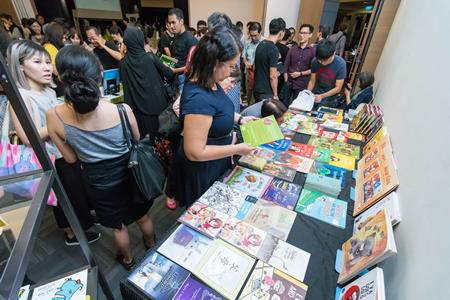 Celebrating Our Stars is a networking event for international and local conference delegates attending the Asian Festival of Children's Content, to meet fellow illustrators, authors, and content creators, and to share the latest books and content.
Similar to the AFCC Makan & Mingle held on 18 April 2017, there will be a display of the latest children's books and content created by delegates during Celebrating Our Stars.
If you would like to showcase your recently published children's books at this event, please read the guidelines below and send Judi the completed Information Sheet.
Guidelines
Deadline for book display submission: 26 April 2017
Open to creators who have booked any of the following tickets:

Full Festival Pass
Writers & Illustrators Conference 3-Day Pass
Writers & Illustrators Conference 1-Day Pass
Cross-Platform Summit
Teachers Congress
Parents Forum

Picture books, middle grade books, YA books and comics are accepted.
Only titles published/released from 2015 are eligible.
AFCC speakers are not eligible for the book display at Celebrating Our Stars.
The creator of the title submitted has to be present for Celebrating Our Stars on 17 May 2017, 7pm - 9pm at The Pod (Level 16), National Library Building
If you are attending Celebrating Our Stars and would like your book to be available for sale during the evening event, we will direct you to our Festival bookstore.
Please note that at there are limited spaces for the showcase, the slots will be given on a first-come-first-served basis.
Information to submit
Complete the AFCC 2017 COS Showcase Info Sheet below and email to Judi at

[email protected]

by 26 April 2017, together with a pdf copy of some sample pages from your book.
Information Sheet
Image of book cover in high resolution
Please send one hard copy of the book/s by by 12 May 2017, attention to Judi Ho.
Mailing address is:
National Book Development Council of Singapore
50 Geylang East Avenue 1
Singapore 389777
For delegates from overseas attending AFCC 2017:
Once your book is confirmed for the display at Celebrating Our Stars, please bring a hard copy of your book(s) and drop it into the box labeled "Celebrating Our Stars Showcase" at registration table on Level 1, National Library Building, on 17 May 2017 by 11am.
Please note that the cost of delivery will not be borne by the organiser.
Please register for Celebrating Our Stars at this link: https://afcc2017cos.eventbrite.sg
Tell Us You're Coming
Not submitting your books for the display but want to join us at Celebrating Our Stars? Click to register.