AFCC Makan & Mingle
| | |
| --- | --- |
| Date: | 18 Apr 2017 (Tuesday), 7:00pm – 9:00pm |
| Who's invited?: | Authors, illustrators, publishers, editors, film creators, app developers, game writers, and others |
| Venue: | *SCAPE, The Treetop (Level 5), 2 Orchard Link, Singapore 237978 |
| Fees: | Free-of-charge. Registration required. |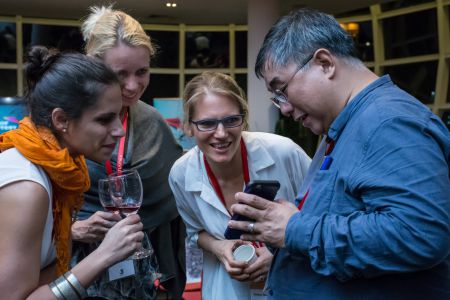 Please note that this event has passed.
Creators, you are invited to attend Makan & Mingle. Come meet other creatives and make new friends. Showcasing the latest children's books and content from Singapore, Makan & Mingle will be the perfect place to connect with like-minded people. Highlights of the evening include announcement of shortlist for the Scholastic Picture Book Award and the AFCC Asian Children's Book Award.
Tell Us You're Coming
Leave your name and we'll know you'll be there!
Register Here
Guidelines for Book/Content Title Submissions
If you'd like to showcase your children's books or content, don't be shy. Send the book/content titles over!
Deadline: 30 March 2017
The book/film/app/game will be displayed for guests to have a look at.

Open to creators who are Singaporean, Singapore PR, or living in Singapore.

Picture books, middle grade books, YA books, comics, films, apps, games etc. are accepted

All content submitted should be for children.

Only titles published/released from 2015 are eligible.

The book/product must be either available for sale, or open for members of the public to view/ download/ use.

Kindly note we will not be able to provide devices to showcase films/apps/games, but film/app/game creators can bring their own *devices, collaterals or small props.

The creator of the book/product is encouraged to come for Makan & Mingle on 18 April 2017, 7pm - 9pm at The Treetop at *SCAPE, where his/her book/product will be featured.

Fill in the Information Sheet below and send it to Alycia at [email protected], together with a soft copy of the book, or clips/photos of the film/app/game.

Send the hard copy of the book to Alycia Teo. The address is:
National Book Development Council of Singapore
50 Geylang East Avenue 1
Singapore 389777
*The National Book Development Council of Singapore will not be liable for damage to devices or missing devices brought for display by a content creator.