Festival Artists' Outpost
| | |
| --- | --- |
| Date: | 17 – 21 May 2017 |
| Venue: | L1, Plaza, National Library Building |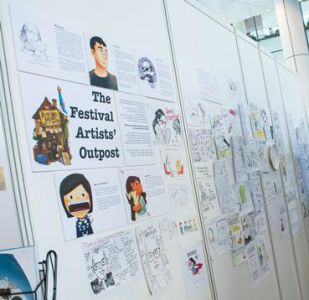 While speakers and participants are busy going for conferences or browsing through books or at the Book Fair, a team of 5 amazing Festival Artists are on a special mission. Over the 5 days of AFCC, they will be sketching, inking, and painting scenes around the Festival. Their delightful art will be exhibited at the Festival Artists Outpost, exclusively at the AFCC Book Fair. Who knows? You might even find your face in one of the illustrations!
View the artwork by Festival Artists from the past 2 years on Facebook:
Festival Artists

David Liew
Illustrator

David "Wolfe" Liew is an illustrator, cartoonist, sculptor, and model-maker. Besides illustrating books and magazines, he's the main artist for the children's series Ellie Belly written by Eliza Teoh. Once in a while, he exchanges the pencils for a pen, and works with words instead.

Candice Phang (Puffingmuffin)
Illustrator & Creative

Candice Phang, better known as Puffingmuffin, is an illustrator and character designer based in Singapore. Her work is characterized by whimsical characters that are clad in clown-like features and dreamy colours. Drawing inspiration from nature, pop culture and life itself, she explores the twisted, dark yet lighthearted bond that brings these elements together. Through her art, she hopes to give another perspective of life — to take life more seriously in a less serious way.

Favian Ee
Visual Storyteller

Favian has been telling stories with pictures and words ever since he discovered the wonderful medium of comics as a child. He worked in VFX for 6 years on several blockbusters. He is an avid urban sketcher and sketchnoter, and enjoys recording his travels in his sketchbooks.

Stephanie Raphaela Ho (Muffinsaurs)
Illustrator / Graphic Designer

Stephanie Raphaela Ho (Muffinsaurs) has been passionate about drawing since she learned how to hold a pencil. As the creator of strange, amazing and sometimes odd things, Steph finds inspiration in daily encounters. Stephanie illustrated the comic, The Adventures of Fatman & Superchub, in 2014, and the book, The Island In The Caldera, in 2016. Stephanie's current ambition in life is to create works that would put a smile on people's faces and make them feel somewhat happier.

Melissa Tan (PaintInks by Melt)
Illustrator

Going by the moniker PaintInks by Melt, Melissa's work transports the viewer to imaginary lands where her love of animals is the anchor, and a total disregard for perspective is key. Her work is whimsical and has been exhibited internationally in countries such as Singapore, Australia and the United States.
Portrait Me!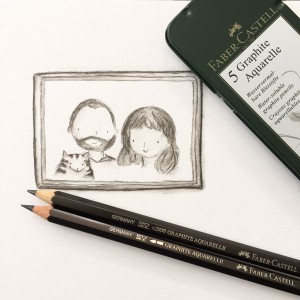 Date: 17 May 2017 (Wed)
Time: 1.30pm - 2.30pm
Venue: Creative Corner at L1 Plaza
Catch the Festival Artists at a live portrait session on get a free illustation of yourself, friends and family... and pets, if you have any!