Hedwig Anuar Children's Book Awards 2013
The Hedwig Anuar Children's Book Award is presented biennially for an outstanding book for children, to recognise and inspire excellence in children's literature published in Singapore. This award is open to children's books published from January 2011 to December 2012.
The award aims to achieve two objectives which are to encourage the quality and quantity of books published for children and to meet the need for our children to be exposed to books, set in a familiar and meaningful background that is relevant to their experience.
The Hedwig Anuar Children's Book Award 2013, with a prize of S$10,000, will be presented during the Asian Festival of Children's Content in May 2013.
Closing date for submissions is 11 January 2013.
For more information, please visit www.bookcouncil.sg.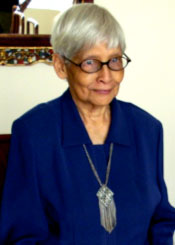 About Mrs Hedwig Anuar
Mrs Hedwig Anuar was the first Singaporean Director of the National Library of Singapore, a position she held from 1960 until her retirement in 1988. During this period she put in place the foundations of the modern library system in Singapore and made contributions to all aspects of library work. This award particularly recognises her outstanding contributions to children's librarianship and the promotion of books and reading for young people.
Organised by: