Public Programme
Just for Libraries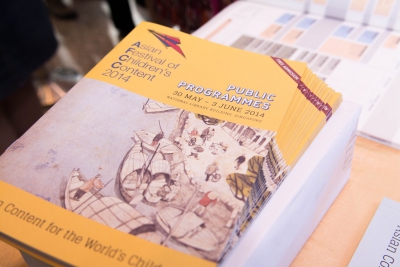 Just for Libraries is about reading and writing, books and writers. It's eclectic, exciting, entertaining and thought provoking. The Asian Festival of Children's Content (AFCC) offers libraries the opportunity to engage with internationally renowned writers and illustrators in the classroom.
2.30pm - 4.30pm | Woodlands Regional Library Programme Zone [900 South Woodlands Drive #01-03 Singapore 730900]
Creative Writing Workshop
AJ Betts (Author)
Where do ideas come from? AJ Betts's stories come from many places: found things, newspaper articles, and overheard conversations, for example. Once, she wrote a novel inspired by breakfast… In this session, AJ demonstrates how to tease out character and story from everyday objects. It's all about asking the right questions.
AJ Betts is an award-winning Australian author of books for young adults. Her latest novel, Zac & Mia, is being published in 12 countries and won the 2014 NSW Premier's Prize, the 2014 SCBWI Crystal Kite Award, and the 2012 Text Prize. She is passionate about creativity, teaching and cycling.
3.00pm - 4.00pm | Library@Orchard [277 Orchard Road #03-12 / #04-11 Orchard Gateway Singapore 238858]
Meet-the-Blogger Session
Amy Ng (Educator, Writer, Illustrator, Pikaland Media )
Illustrator and "mayor" of art blog, Pikaland, Amy Ng, will share about the different ways that one can enrich the lives of others, through communication and story. While an artist has to be brave to take up a brush or pencil to draw and create, it is just as important for the artist to connect with others, and blogging is a great way to flex their creative muscle while helping the artist reach audiences online.