Conferences & Workshops
Seminars
| | |
| --- | --- |
| Date: | 27 May 2013 (Monday) |
| For: | Writers, illustrators, translators, bloggers, and industry professionals |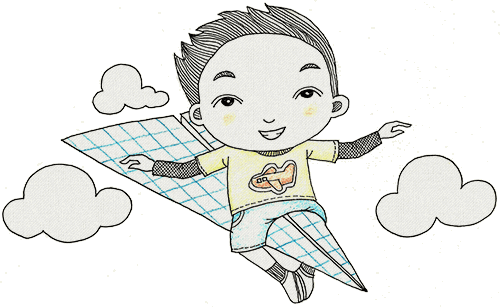 The AFCC Seminars offer specialised sessions that focus on specific aspects of the literary community. This year's Seminars will cover Young Adult literature, translation of children's books, and blogging.

Illustration by Emila Yusof, illustrator, Malaysia
9:15am – 10:15am
Challenge, Trauma and Recovery in YA fiction
Susanne Gervay (Author), Wendy Orr (Author)
Moderator: Shirley Lim (Librarian, National Library Board)
Join top-selling authors Wendy Orr and Susanne Gervay as they discuss the use of fiction to explore the challenges that face teens today and how reading about difficult issues can affect readers positively.
10:15am – 11:15am
YA – A Malaysian Perspective
Teoh Choon Ean (Author), Golda Mowe (Author)
Moderator: Sharon Ismail ()
YA is one of the hottest areas in publishing right now, but where does Asian YA fit in on the scene? Teoh Choon Ean and Golda Mowe – writers from AFCC 2013 Country of Focus Malaysia – discuss where Malaysian YA stands and where it could go from here.
11:45am – 12:45pm
The Page on Stage: Writing Plays for Teens
Jonathan Dorf (Playwright)
Moderator: Serene Wee ()
How do you write teenage dialogue that doesn't make teens cringe? Jonathan Dorf discusses writing realistic teenage dialogue in a dialogue-heavy medium for an audience with an ever-changing range of slang and lingo.
2:15pm – 3:00pm
The Present and Future for Multicultural Graphic Novels
Wolfgang Bylsma (Publisher)
Moderator: Lisa Yun (Educator)
As a newer form of literary art, graphic novels have something of an advantage in the diversity stakes, which makes its forward trajectory somewhat easier. Gestalt Comics' Wolfgang Bylsma gives his perspective on where graphic novels stand in terms on multiculturalism and where it can go from here.
3:00pm – 4:00pm
Writing Non-fiction for Early Teens
Shirin Yim Bridges (Head Goose – Author, Editor, Publisher, Goosebottom Books, Gosling Press), Mio Debnam (Author, Editor)
Moderator: Anu Kumar (Author)
It isn't fiction alone that appeals to tweens! Non-fiction sales are strong and there is high demand in educational circles for engaging content for early teens. Find out more in this session with Shirin Yim Bridges and Mio Debnam.
Download handout -- Shirin Yim Bridges
4:30pm – 5:30pm
Asian Spice, Hot Genres: Writing and Marketing New YA Fiction
Cinthia Koeksal (Author), Paolo Chikiamco (Author, Reviewer), Golda Mowe (Author)
Moderator: Ken Spillman (Author)
Asian authors and reviewers come together in this panel to present their creative journeys in breaking into popular teen genres. Join Cinthia Koeksal, Paolo Chikiamco, and Golda Mowe as they talk about the challenge and inspiration in making their presence felt in YA.
Download handout -- Cinthia Koeksal
9:15am – 10:15am
Getting the Most out of Blogging
Stephanie Su (Blogger, Reviewer)
Moderator: Liyana Othman ()
Why do we blog and what can blogging do for our passions? As we, our interests, and the world are constantly changing, join Stephanie Su in this keynote as she examines how to get the most, personally and professionally, out of blogging.
10:15am – 11:15am
Fostering Relationships within the Blogging Community
Vivian Kirkfield (Blogger, Educator, Author), Marjorie Coughlan (Reviewer), Michelle Chew (Blogger, Reviewer)
Moderator: Aun Koh ()
A lot of myths maintain you can't make real friends on the Internet, but you know better by now. Join Michelle Chew, Vivian Kirkfield, and Marjorie Coughlan as they talk about building and growing communities and relationships online.
11:45am – 12:45pm
Blogging – Today and Tomorrow
Stephanie Su (Blogger, Reviewer), Candy Gourlay (Author)
Moderator: Tarie Sabido ()
Steph Su and Candy Gourlay discuss their blogging journeys and what the future holds for the swiftly changing Blogosphere.
Reaching Beyond Boundaries Through Translation
2:00pm – 2:45pm
Translating Asian Languages into English
Alexander O Smith (Author, Translator)
Moderator: Tan Dan Feng ()
Join Alexander O. Smith as he talks about the cold hard facts of entertainment translation. What should employer and translator expect from one another? How do Asian languages translate into English, and how does a translator smooth the way? Find out all this and more in this session.
2:45pm – 3:30pm
Editing Stories in Translation
Holly Thompson (Author, Teacher)
Moderator: Avery Fischer Udagawa (Translator)
Editing is an essential process in shaping a story for publication. For stories in translation to be well received, they require more than surface editing for accuracy. Editing works in translation involves honing voice, tone, diction, pacing and other elements. Holly Thompson, editor of Tomo: Friendship Through Fiction—An Anthology of Japan Teen Stories, will discuss the role of an editor for stories in translation and offer advice for publishers and translators.
4:00pm – 4:45pm
Promoting Translations in the Children's Market
Avery Fischer Udagawa (Translator)
Moderator: John McKenzie (Educator)
Translators open new markets for Asian stories – both by translating and by actively promoting translations. Publishers, authors, and illustrators can work with translators to multiply a book's potential. This session explores how translators' cross-cultural networks, school visits, websites and blogs are propelling titles across borders.
4:45pm – 5:45pm
Translation – Elements for Success: Asian Works to English-language Markets
Alexander O Smith (Author, Translator), Avery Fischer Udagawa (Translator), Mohd Khair Ngadiron (CEO, Malaysian Institute of Translation & Books (ITBM)), Holly Thompson (Author, Teacher)
Moderator: Harvey Thomlinson ()
How is the market for Asian children's and teen stories translated into English? What elements make a translation from Asia more likely to sell in English? This discussion by two translators, an author-editor, and head of a national translation agency addresses both questions.
2:15pm – 5:45pm
The Fine Art of Reviewing Children's Books
Marjorie Coughlan (Reviewer)
Moderator: Reenita Malhotra Hora (Author, Broadcast Journalist, Ayurveda Clinician )
Presentation:
What makes a good book? What makes a good review?
The components of a book review.
Choosing books to review,
Break
Workshop:
Group-discussion, reviewing a book
Writing a review for publication