Jeet Zdung: "I dream of being a comic creator"
Interview
Interview by Pham Thi Hoai Anh
Jeet Zdung is the illustrator of "Chang in the Wild" (Vietnamese title: Chang Hoang dã) by Trang Nguyen, a rare Vietnamese graphic novel series that resonates with and makes its mark in the children's book market around the world. The first book of this series "Saving Sorya: Chang and the Sun Bear" has been published in more than 10 countries.
It has been well received in South Korea and received many prestigious awards in the UK and America. Along with the inspirational story told by wildlife conservationist Trang Nguyen, Jeet Zdung's illustration has created such a beautiful vibe of nature that readers of any age can feel when getting immersed in the world drawn from his passionate heart.
HA: Hello Jeet! Tell me about your journey to become an illustrator for children's books.
JEET: Initially, I did not illustrate books. Since lower secondary school, I have always been dreaming of being a comic creator. Making lively films on paper is what I truly wish to do. My favorite comic series for children is Doraemon.
However, it's not easy to get your comics to be published in Vietnam and it is even harder to make a living by this profession. Comic books do not require the author to draw marvelous pictures or write perfect lines. Rather it requires a strong storyline and the ability to effectively represent the story through images. Just like a movie, a good comic must draw its readers into the journey of characters with seamless moving images interconnected through carefully arranged frames page after page. If your interpretation is poor, no matter how good your storyline is and how beautiful your illustration is, you will not be able to keep the reader. Things are somehow less challenging with book illustration. We can just focus on doing the writer's job or the illustrator's job. The children's book illustration market is very vibrant and offers more opportunities for domestic authors than comic books.
It's not easy to get your comics to be published in Vietnam and

it is even harder to make a living by this profession.
HA: Do you follow any specific style of illustration?
JEET: I create different styles depending on the content of the book that I illustrate. As for "Saving Sorya: Chang and the Sun Bear", I chose a drawing style that combines Japanese manga, western comics, scientific illustrations, and realistic depictions. I also love combining painting styles in Vietnamese and Japanese folk paintings. Sometimes simply inspired by another artist's drawing style, I will come up with a storyline to draw and practice.
I am most comfortable drawing with traditional materials on paper. I like pencils, irons, brushes, ink, watercolors, gouache, watercolor paper, dó paper* (a Vietnamese traditional paper made from tree bark), and washi.
These are convenient materials to carry along to draw anywhere and convenient for scanning later pictures into the scanner. I used to do a lot of digital drawing, but later on, I feel very stressed whenever I touch the device. Paper and pen suit me better.
HA: What was your biggest challenge when illustrating "Saving Sorya: Chang and the Sun Bear"?
JEET: I had only about 120 pages for each book of the series but so much knowledge and good details that I wished to include in the books. If I got too greedy, the story would be rushed, and the reader would be flooded with seas of information.
Many scenes were so important that the script and the structure of the book had to change to make room for them. But it was difficult to choose from the beginning. Regardless of genre, when it comes to composing, I must try a lot before knowing what to priorities and what to get rid of.
The tempo of the story greatly affects the reader's experience. My job is to lead their emotional rhythm seamlessly throughout the reading process. If I feel the tempo isn't right, I'll need to change the structure of the story. I do hope I have done well enough.
"Saving Sorya: Chang and the Sun Bear" is a large-scale project in terms of both number of illustrations and working space and time. Are you happy about what the book has achieved?

Wildlife conservationist Trang Nguyen was the one to look for true stories in her industry. She mined those stories, wrote them down, and sent them to me. I relied on that script to draft a comic book script. After that, I went on field trips to national parks and rescue centers, worked with animal experts, and met the animals that would be my main characters. In order to reproduce as vividly as possible, the environment and habitat of the forests that I have been through, I carefully select the signature plants to include in the book.
I wanted to know what they are called and where they should be in the forest. I tried to gather as much material and real-life experience as possible before working on the detailed script. Illustrators Phuong An, Nguyet Hang, Nguyen Ngoc Hoan, Nguyen Hoang Long were volunteer assistants to this project. I am very grateful to them.
When the book first came out and was received, I simply felt I had done my job.
When the book first came out and was received, I simply felt I had done my job. I was happy as I have finished the illustrations for the two books. Both Trang Nguyen and I wish to try our best so that our books make an active contribution to the cause of wildlife conservation, stirring up the public interest in wildlife conservation and specifically, bear protection.
Vietnam has a lot of gifted comic authors and illustrators. I do hope the success of "Chang in the Wild" series would make a great starting point for many more good works on Vietnam's wildlife to come into beings and receive global recognition. I am looking forward to reading such works.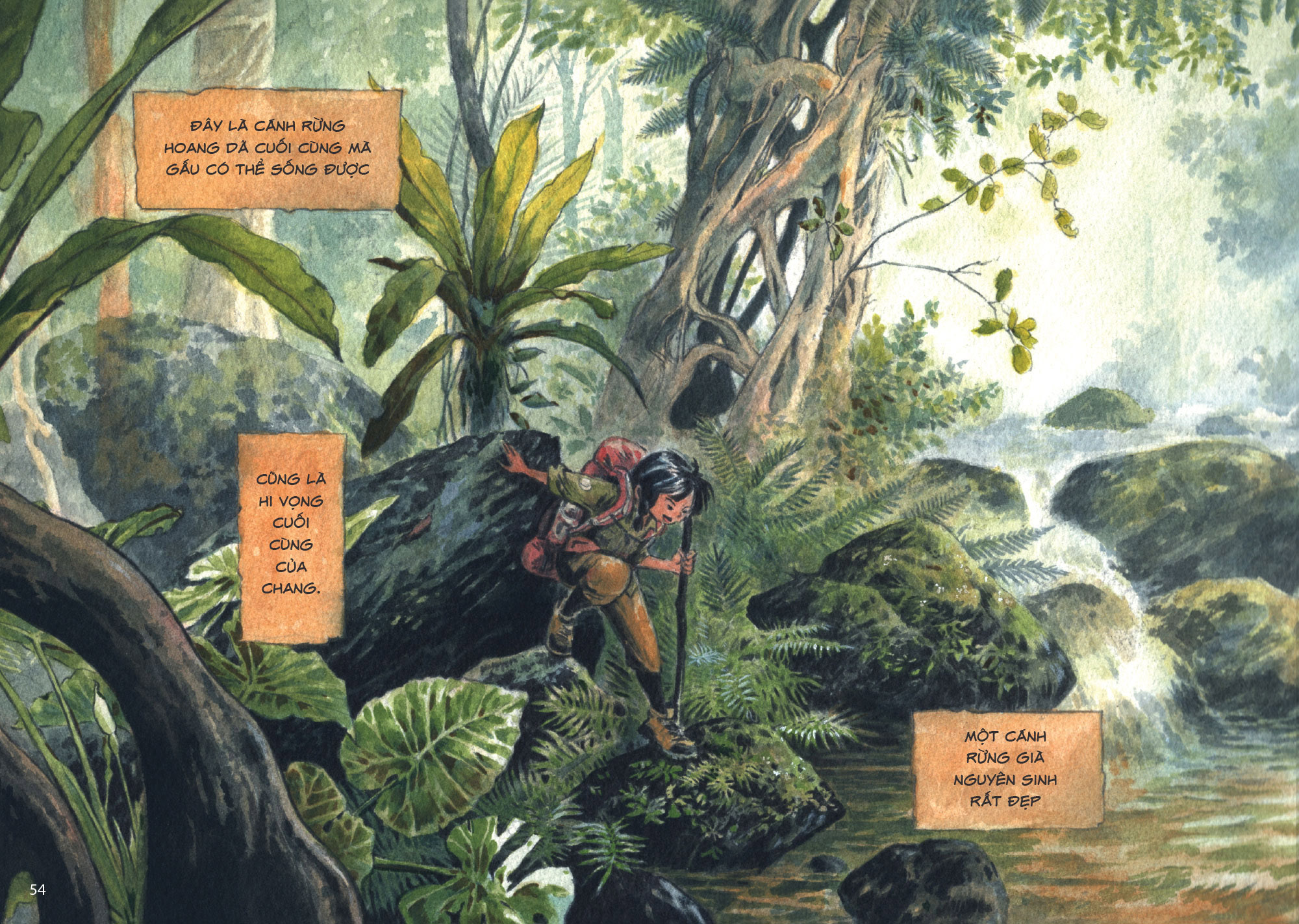 Saving Sorya is one of the featured illustrations for BIG COF Vietnam, and graces the cover of this year's collectible series of programme booklets.
About the interviewer
Pham Thi Hoai Anh is an independent children's picture book author and the founder of Vietnam's ICBC (Initiative of Children's Book Creative content). Through ICBC, Hoai Anh spearheads diverse educational programs and art activities, including visual art exhibitions, reading concerts, and drama performances. Passionate about reading with children, she strives to enrich their artistic experiences and spread the joy of reading, considering it a vital responsibility as a children's book author.
Catch Hoai Anh in these sessions: