工作坊:用插画赋予意义


Creating Meaning with Illustration

Workshop 林柏廷 (Lin Bo Ting)
通过本手作坊,童书作家林柏廷将分享如何用插画来丰富书籍的内涵。导师会通过例子和示范同参与者们一起探讨文字和图像间的互动,及如何使用不同的插画风格来表达情感和曲折的故事情节。
In this illustration workshop by Lin Bo Ting, learn how to create multi-layered meanings with pictures. Through examples and demonstrations, explore the interactive relationship between images and text, and how to convey emotions and complex story plots through different styles.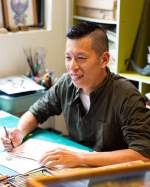 林柏廷

(Lin Bo Ting) (Taiwan)

小时候志向是当兽医,现在创作绘本过生活,年过四十才开始读美术硕士,很怕吵却又喜欢和小孩互动,擅长以粉蜡笔、压克力颜料、复合媒材、电脑绘图等为创作媒材。奖励包括《阿祖再見》2023 台北国际书展书展大奖、2021金鼎奖优良出版品推荐、《一个像海的地方》OPENBOOK 好书奖 年度童书、 《一起去动物园》第六届 香港丰子恺儿童图画书奖 佳作、《一个像海的地方》第七届丰子恺儿童图画书奖推荐。

As a child, Lin Bo Ting's dream was to become a vet, now he creates picture books for a living. He decided to pursue a Master's Degree in Art in his 40s. Despite his aversion to noise, he enjoys interacting with children. He is adept at using oil pastels, acrylic paint, mixed media, and the computer to create his artwork. His accolades include the 2023 Taipei International Book Exhibition Award, 2021 Golden Tripod Awards (Outstanding Publication) and the 7th Feng Zikai Chinese Children's Picture Book Award (Recommended Book).  

See all sessions by Lin Bo Ting ›
Programme dates and times are subject to change.