Awesome Women of Singapore
Edited by Margaret Thomas, written by Debbie Chia and Dr Phyllis Chew, illustrated by 8EyedSpud, Anngee Neo, Arai Kreva, Cheng Puay Koon, Hafi, Kim Ngyuyen, Natalie Christian Tan, Niki Koh, Nisa' Tuzzakirah S. and Shana Kamaldin
These are the empowering stories of Singapore women who broke the mould and continue to inspire today's generation. From philanthropists to paralympians, the stories of Singapore's awesome women have been collected in one must-have volume featuring the stunning, stylised work of ten female illustrators, including Anngee Neo, 8EyedSpud and PK Cheng. This book was produced in collaboration with the Singapore Council of Women's Organisations (SCWO).
Margaret Thomas (Editor)
Margaret Thomas spent more than two decades as a journalist. She now works mainly on book projects and in various voluntary roles on the pursuit of gender equality. A founder member in 1985 of the feminist group Association of Women for Action and Research (AWARE), she has chaired the Singapore Women's Hall of Fame committee since 2013. Margaret has also been involved in civil society organisations and initiatives such as TWC2, the Singapore Women's Hall of Fame, and the Singapore Advocacy Awards.
Authors
Debbie Chia is a writer at Singapore's Hedgehog Communications. She is now based in Berlin with her husband and son. A former intern for the Singapore Council of Women's Organisations during her university days, she also leads a second life as a DJ and record label owner.
Dr Phyllis Chew is the past president of the Association of Women for Action and Research, as well as the University Women's Association (Singapore) and the English Language and Literature Teachers' Association. She was Fulbright's and the Leverhulme Trust's visiting professor on language, gender and comparative religion from 2010 to 2011.
Illustrators
8EyedSpud is a creative studio founded by Jacqueline Goh and Natalie Kwee. With over 12 years of collective illustration experience, they combine their wild senses of humour and the whimsical nature of drawing to produce meaningful (and fun!) work.
Anngee Neo creates drawings with an emphasis on storytelling with compelling characters. Her quirky, surreal and whimsical works have breathed life into children's books such as The Rock and the Bird, The Crane and the Crab, The Trampolines that Nadia Built, and Do Gallery Sitters Sit All Day? Things People Really Do in a Museum.
Arai Kreva, whose real name is Raihana Abdul Rahman, is a visual artist dedicated to urban arts and illustration. She pursues creative endeavours headfirst with big curiosity and an even bigger passion. Her eye for detail transforms her artworks into stories and conversations for her audience.
Cheng Puay Koon is an international best-selling author who loves drawing for children. She has illustrated over 70 picture books, including the Abbie Rose and the Magic Suitcase series created with popular writer Neil Humphreys.
Hafi, whose real name is Hafizah Jainal, is a designer who draws. She makes visual interpretations through illustration, design and self-portraiture. Her images often stem from the frank and absurd, but are still relatable.
Kim Nguyen is an illustrator and graphic designer. Beyond her editorial work, her personal practice is centred on the convergence of fiction and reality, with a focus on using alternative narrative formats to examine individual identity, social systems and the lived experience.
Natalie Christian Tan is an illustrator and graphic designer. She dreams up imagery for publishers and local arts entities like the Singapore Drama Educators Association, Ethos Books, Asiapac Books and Delere Press.
Niki Koh is an illustrator and graphic designer who passionately experiments with various visual styles. With her art, she tries to explore feelings of beauty, fear, humour and comfort through a personal lens, and hopes that others may find the same things too.
Nisa' Tuzzakirah S. is an illustrator, all-rounder creative and maker of magical and meaningful things. She is passionate about growth and hope, the exploration of being human, finding joy in normal everyday things and the empowerment of women.
Shana Kamaldin (@littlecorals) is an illustrator who specialises in ink and watercolour. Inspired primarily by nature and botany, her preferred subject matters include local bird species and oddly shaped plants.
---
Feature Interview
In this feature interview, we bring you the voices of those who brought this book to creation. Editor Margaret Thomas takes us behind the scenes of the mammoth project that is Awesome Women of Singapore, a feature of the Singapore Women's Hall of Fame, targeted at young children. We also hear from the authors and illustrators how they decided to portray the women in this book.
Involving children in the selection process was such a great idea. Could you tell us more about the reasons behind the disposition to do so?
First, the book is based off the Singapore Women's Hall of Fame, which the Singapore Council of Women's Organisations launched in 2014. The aim was to recognise the contributions and achievements of Singapore's outstanding women in all fields of endeavour.
We did this because the history books are full of the achievements, contributions, and often mistakes of men. But there's very little about the role of women in a society's development, or the nation's growth. So the Hall of Fame was launched to fill that gap.
From the very start, the aim was always to get the stories shared as widely as possible, and most importantly, to get them to young people in Singapore. And so, the idea of a children's book or a series of children's books was always part of the plan. We waited a bit to build up the number of women in the Hall of Fame and talked to various publishers at various points. Epigram came up with a compelling and workable arrangement.
How did the team undertake this massive project involving 400 students at St Anthony's Canossian Secondary School?
At that point, there were 160 women in the Hall of Fame. Now, they're 174. All of the women would be in the book, but we wouldn't be able to feature all prominently because that will make the book much too big for a children's book. So we decided that we would highlight just 100 of the 160. Now, the question is, how do you identify the 100? Because they're all outstanding women who all made very important contributions. So we thought, "Well, this is meant to be for children. Why don't we get children, get their input?"
Initially, the idea was that we wouldn't be involved directly, we'll leave it to the teachers to work it out with these students. They would form little work groups in classes and run through perhaps not the whole list, but parts of the list, and then discuss it.
Just as that was supposed to happen; this is COVID time, right? Schools had to go into home-based learning so they couldn't do those groups. Instead, the kids had to work from home. They were asked to answer questions like, "which inspires you the most and why?", "what do you like best about the project and do things?", "do you think schools should include the history of women in Singapore as part of the curriculum?" We had some very interesting responses to those questions.
But the main purpose of that exercise was to come up with a list of 100 women that these secondary school girls thought were the most compelling of the stories. We went through all that and came up with this list of 100. Meanwhile, we had also asked an editor at Epigram who was relatively new to Singapore and was not familiar with these women. We asked her to go through the web profiles on the Singapore Women's Hall of Fame website.
We also go through the lists and identify the 100 that she thought had the most compelling stories for young readers. And as it turned out that the two lists had a slightly over 80% overlap. With just a little bit of adjustment here and there, we got our 100 women that we featured prominently.
I imagine this to be a massive undertaking by the editorial team both on your part, as well as Epigram to collate everything.
I chair the Hall of Fame committee and my background is in editorial. So I've been heavily involved in all of that, as well as for the web profiles. The profiles were there, but they are geared to an adult audience. We needed to produce shortened versions aimed at the slightly younger market.
We had a couple of writers who did the initial rewrites and the editor, Epigram, and myself then did some fine tuning here and there. Of course, the other idea was having these 10 women illustrators, some well-established and some emerging talents. Epigram identified them and commissioned them, and randomly assigned to each of them 10 of the 100 women. You've got this great variety of styles, the women artists interpretation of these.
So we took a look through the book and other amazing women that were featured in it. Is there a particular order in how the women were presented?
We decided for it to be random. We let Epigram come up with the initial ordering, and then we made some adjustments. The idea was to vary it, so that the pace as you flip through it, you'll see someone who was like an adventurer. And then next will be someone who worked in government, to get a variety to show the great range of activities and contributions of the women.
We also wanted to spread the different artistic styles, so you don't get a bunch of them together. They decided to kick off with the Navy Diver, Esther Tan, and you know, the picture of her as a picture of her smiling and winking, it's a very attractive picture with mountains in the background. The idea was to present something unusual when you first open the book. We had that kind of an idea in mind as we finalised the ordering.
In a related question to this, what are your hopes for the book in the future in teaching the young people of Singapore about these women's achievements?
The book really is at the heart, a Project Awesome that we launched at about the same time that we launched the book. We did a bit of fundraising, got some support, and we gave four complimentary copies of the book to every primary and secondary school, every children's home, and every Madrasah in Singapore, some 300 over schools.
This was unfortunately in the middle of COVID and all that, so we weren't able to follow through completely on the big plan, which is to give each school free copies of the book, along with an offer of a whole range of teaching resources: lesson plans geared for lower secondary and upper primary. In time, we may come up with lesson plans for kindergarten, even polytechnics.
We offer teachers lesson plans which they can use to draw inspiration for sessions using the stories in the book. We also offered workshops. These have yet to kick off because of the problems last year in conducting activities in schools. These are workshops where students are taken through the sort of life choices that you make in life. Example, "Do you want to contribute to society by being part of the government?", "do you want to do it by being a community worker", or "do you want to develop your own talents and be like an artist or athlete?" We're not just children participants. And then you come to the end where you'll see based on the choices you made, the area that you want to focus on, and here are the women in the Hall of Fame who made similar choices to you.
In the process, they learn about the women in the Hall of Fame and maybe learn a little bit about themselves and what motivates them and what they want to do in life. Now that things are getting back to normal, we hope to work with the schools and start conducting these workshops in person or if necessary on Zoom online. We also offered schools and this one we've been offering for a long time, mini exhibitions and talks by women in the hall of fame or other inspiring women. It's a whole package of activities built around the book and around the hall of fame.
All the best for the workshops that are coming and hope you get to run them soon. It'd be good to see them in action.
Exactly! And we know that based on responses of kids who have read the book and responses of young people who have been to the various exhibitions, that most of them really come away and say this is amazing. I never knew that there were so many women who had done so many great things. You know, one of the early exhibitions we had a secondary two school girl say, "you know I thought that only men like Lee Kuan Yew could do great things. Now I realise that there are many women who have done wonderful things too."
And so this assures us that we're on the right track, that there is a need to bring these stories to young people of Singapore. And for them to realise young girls and boys that women are not just your mother, sister, Grandma teacher that women have done remarkable things in in all fields of endeavour in Singapore.
We asked each of the other creators about their contributions to the book as well.
How did you make the profiles of the women featured more relatable to younger readers?
These women were already chosen by the younger readers through a vote so we know what they did appealed to them; we used simple language, eye-catching introduction and conclusion, short and sweet.
– Dr Phyllis Chew (Author)
What did you choose to highlight in the write-ups of these women?
We chose to find the unique features and also some virtues that the women had.
– Dr Phyllis Chew (Author)
Awesome Women of Singapore uses illustrations of these featured women in place of photographs. Could you share what you have chosen to capture in the portrayal of these women through your illustrations?
In most of the portraits, I wanted to have the women looking directly at the reader, and connecting with them through the pages. I chose to have the women as the central topic and focus, with the backgrounds hinting at their accomplishments, so that the human shines through.
– Anngee Neo (Illustrator)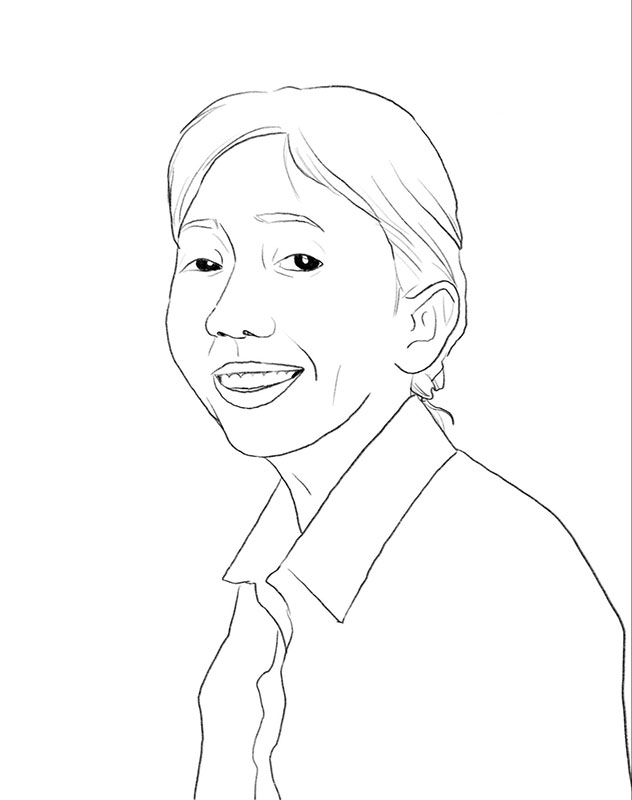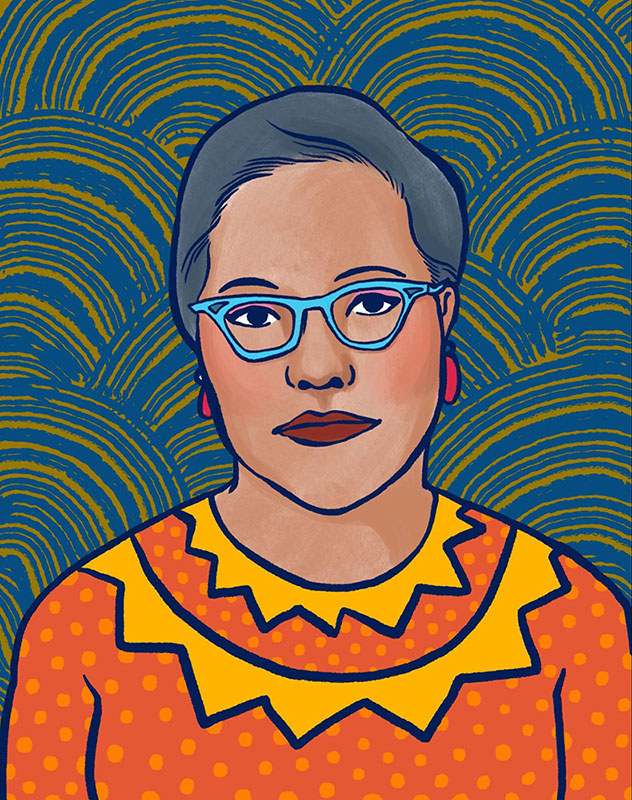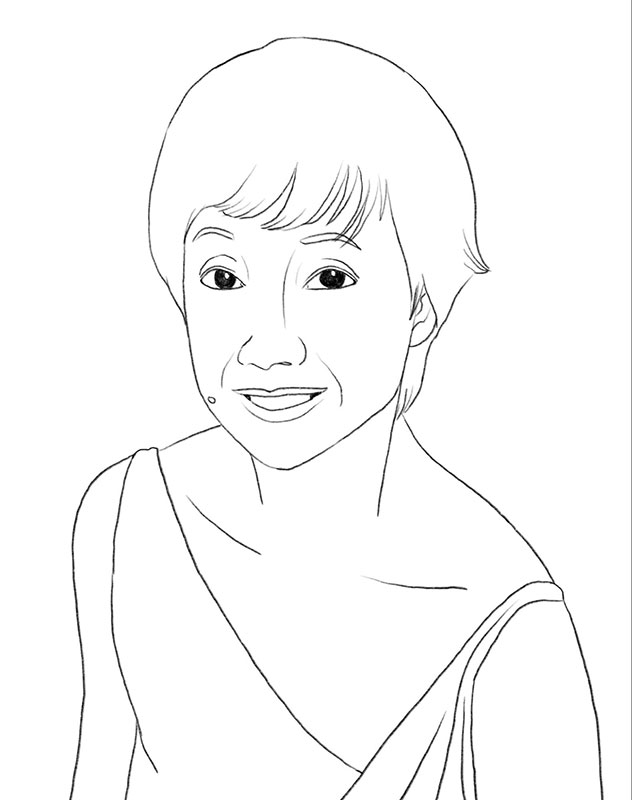 My chosen portraits were given a playful look and a concept that reflects their character in what they did best.
– Arai Kreva (Illustrator)
It was mostly gut-feel for me, really. I was trying to capture what each of these women felt like to me, and it was strength that stood out. Tenacious strength, quiet strength, strengths both sparkling and kind. I loved all that. That felt beautiful to me.
– Cheng Puay Koon (Illustrator)
I had the joy of reading their biographies and discovering the obstacles and legacies they left behind. They scaled mountains, both literally and figuratively, and I chose visual elements from their conquests for their portraits. Lam Lay Yong, the brilliant mathematician, detailed the influence that ancient Chinese arithmetics had on present day mathematics all over the world. I depicted her with an abacus and bamboo shoots, which featured heavily in ancient Chinese mathematics as a tool of calculation.
– Natalie Christian Tan (Illustrator)
To start on the portraits for the women assigned to me, I collected various reference photos of them and couldn't help but be struck by the warmth they exuded while doing what they did best. On top of their life achievements and contributions to Singapore, I was motivated to capture their vibrancy and passion through colours and their expressions.
– Niki Koh (Illustrator)
Through my illustrations of these ten Amazing Women, I attempted to capture elements that, at a glance, showcase their life's work and achievements. For instance, Tham Yew Chin is pictured writing at her desk against a backdrop of many of her celebrated works, while Patricia Chan, Singapore's first Golden Girl, is pictured with the numerous trophies and medals she won for the country.
Though before my time, I imagine countless students must have benefited from the Mobile Library Services which Hedwig Anuar and her team introduced back in 1960. In this draft sketch, Hedwig is pictured smiling against the backdrop of the mobile van which was used to bring books to thousands all over Singapore.
–Shana Kamaldin (Illustrator)
How did you illustrate them in your style without changing much of their facial features? Did you refer to reference pictures of the women you illustrated?
I decided to take a more realistic approach with this project as I wanted people to see them as they are, instead through my illustrator's lens, and I decided not to take too much liberty with the reference photos that I picked. I did go through quite a bit of research to find photos (where available) of the women that I feel captured their spirit.
– Angee Neo (Illustrator)
Yes, I did some research to find a strong pose to show their achievements in one portrait. My character designs have a repetitive style when it comes to how I draw the features but I try not to deviate too much from the ladies' unique look.
– Arai Kreva (Illustrator)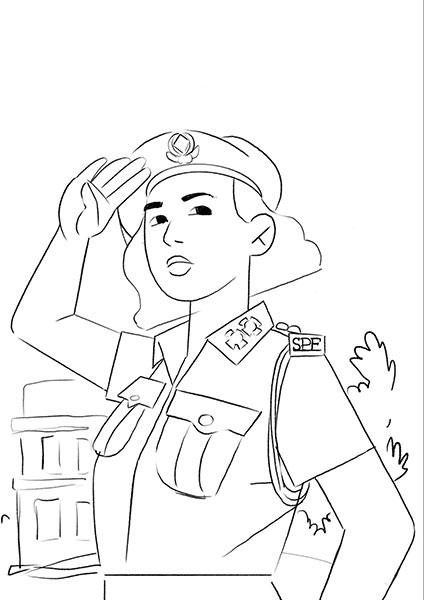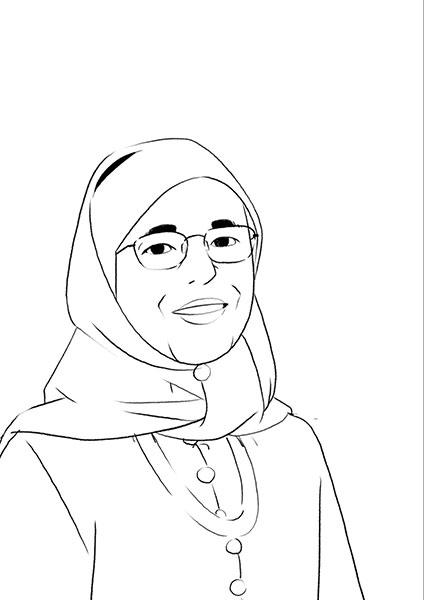 I'm versatile when it comes to illustration styles. I'm happy doing quirky or realistic, trendy or traditional. I love my pencils and brushes and digital pens the same. Haha, but for this project, I'd chosen good-ole-pencils for my base. Old-fashioned perhaps in our ubiquitously digital era, but also timeless, like the stories of these women. There's something rudimentary about a pencil, and it's a simple love to move it around to capture a person's likeness. And yes, I Googled for reference pictures.
I was really excited to know that 9 other illustrators will also be working on this book. Which meant that we could more freely explore illustration styles and interpretations to showcase both range and diversity. Haha, and so I could pick a more classic rendering style without worrying much if it'll be too stuffy for a children's book and I enjoyed that, especially after making almost a hundred other children's books that looked cute, happy and bright ;P
– Cheng Puay Koon (Illustrator)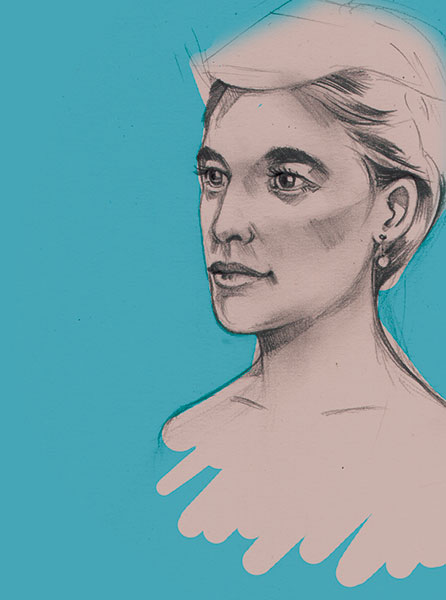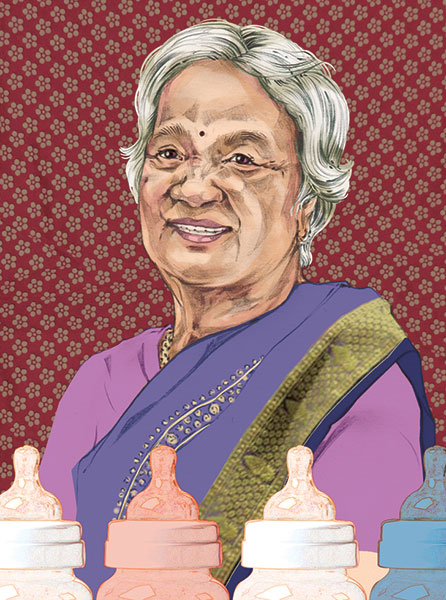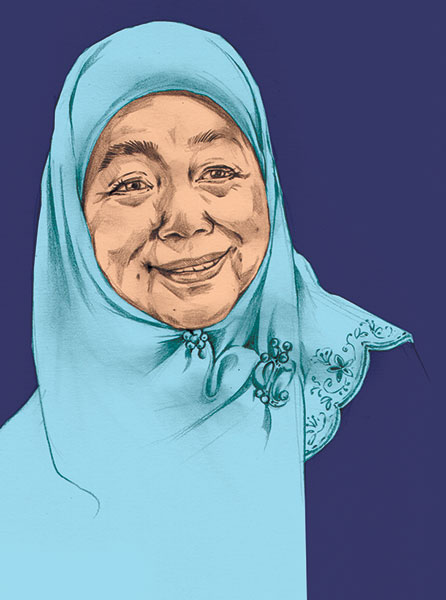 For me, I believe that style should be a servant to purpose and function. I always modify the way I draw to emphasise subjects. In this project, I worked with reference photographs of the women to match their likeness, and I rendered them in a form that would be interesting to both children and adults.
– Natalie Christian Tan (Illustrator)
Personally, I felt that capturing the spirit of these women took precedence over trying to maintain any sort of illustrative 'style'. As such I pretty religiously consulted multiple reference photos while creating the portraits. I think I focused on other ways of applying my style without deviating much from their facial features, such as use of colour and backgrounds.
– Niki Koh (Illustrator)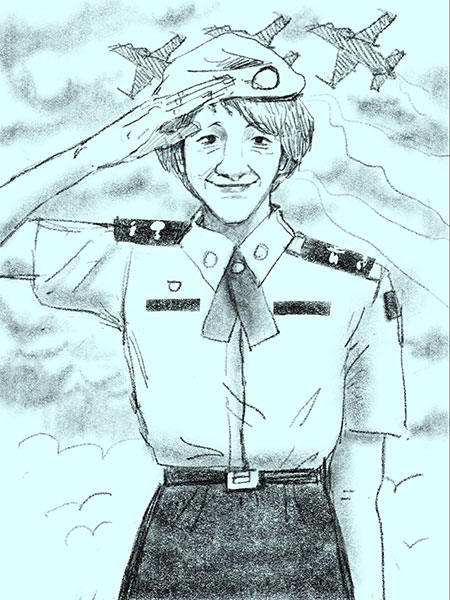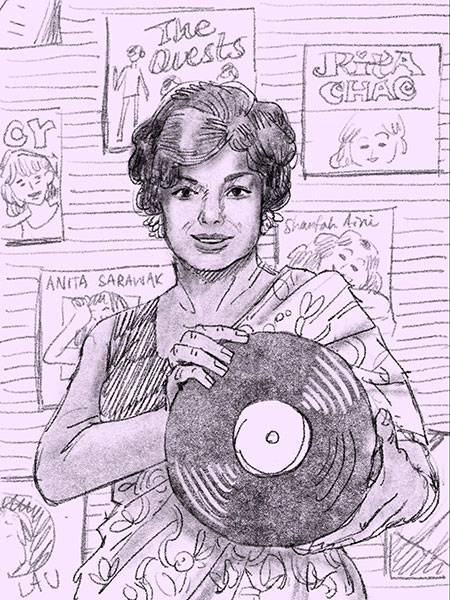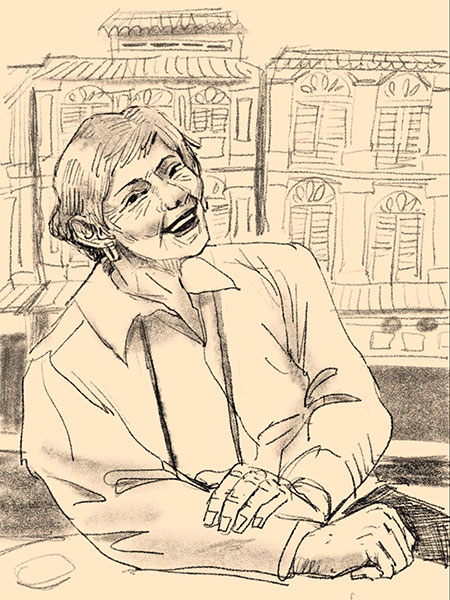 Not having had the opportunity to meet these Amazing Women in real life, reference images and audio-visual recordings proved to be an invaluable resource when conceptualising these illustrations. Aside from informing me on how these women looked, dressed and carried themselves, they also allowed me to imagine elements of their character – Shirin Fozdar's passion when delivering a speech on social and women's issues, for instance.
– Shana Kamadin (Illustrator)
Don't forget to catch the HABA Awards Ceremony on Friday 27 May 6pm.
Check out Awesome Women of Singapore at our Festival Bookstore now!