The Private Kwan Shan Mei
The Private Kwan Shan Mei
Written by Wendy Toh
My first acquaintance with Loretta To was in October 1984, at the Serangoon Garden bus stop where we used to wait for our public bus to work every morning. Learning that we were from the same hometown Quanzhou and even shared the same Chinese surname 杜 brought us closer and broadened our conversation. We became good friends and in early 1985, she introduced her mum to me. Initially, I had no idea that her mother was the famous illustrator Kwan Shan Mei who illustrated our school textbooks.
In the same year, Loretta left Singapore to work in Hong Kong as a Customer Service Executive at R.R. Donnelley Far East Ltd HK, in order to look after her sick father, who later passed away in September 1989.
Loretta got married in 1993 and migrated to Vancouver. Though Madam Kwan Shan Mei was alone in Singapore since 1985, Loretta's friends (including myself) helped her with her household chores and ran errands for her, if required.
During 1985/86, I used to accompany Madam Kwan to the old NAFA 三山园, and was always mistaken as her student. Thus, she usually introduced me as her god-daughter. Gradually, Madam Kwan and I became very close as we shared similar hobbies. She loves the Beijing opera and Grammy award-winning movies. She has green fingers and a great passion for animals and plants. We always enjoyed our weekends researching and gathering references by visiting places, such as Jurong Bird Park to observe the peacocks and parrots, and Chinese Garden to visit the Bonsai Garden. We even visited the Singapore Zoo numerous times to observe and take photos of the animals when she was working on the Animal Frolics series.
Since she first arrived in Singapore in the early 1960s, Madam Kwan had been renting houses and flats. She was very thrifty. She retained her original set of furniture despite shifting houses several times. She would wear Loretta's old clothing, but they still looked perfect on her as she was good at matching these clothes. Although thrifty, she never hesitated to buy good food for her beloved cat. According to her, her pet cat would sit quietly on her working table to accompany her as she worked during late 70s to 1980s. After her cat passed away in 1985 in her Serangoon Garden home, she was too sad to get another one. Instead, it was replaced by Mooty the soft toy mouse.
In 1989, Madam Kwan finally bought her first 3-room HDB flat in Yishun after years of work. However, she only stayed there for about 10 years. In the late 1990s, her health began to deteriorate, and she was admitted to National University Hospital (NUH) when she was diagnosed with heart problems. She decided to sell her flat and move to Vancouver in January 1999 to live with Loretta. She recuperated well in Vancouver, perhaps as the climate there was similar to Dongbei 东北, where she was born. I visited them many times over the years.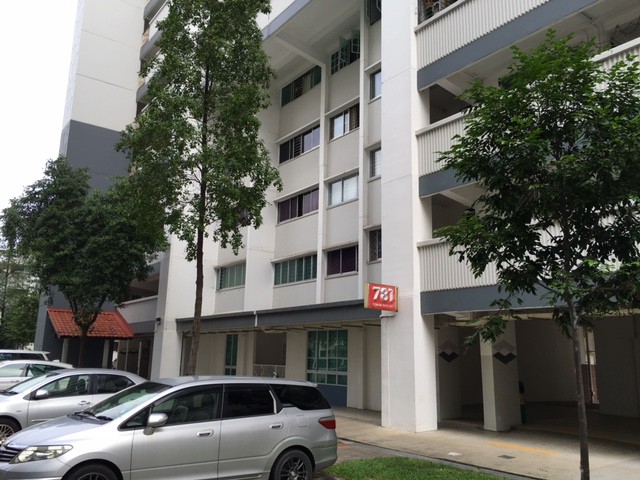 (Madam Kwan's first HDB flat that she used to live in)
Unfortunately, Loretta was diagnosed with breast cancer in 2007. This was a great blow to Madam Kwan. She spent time taking care of Loretta and many of us went over to help them. Madam Kwan had a bad fall in March 2012 and was bedridden. She passed away peacefully on 8th May 2012. Loretta passed away a year later on 27 July 2013. After that, the works by Madam Kwan in Vancouver was passed over to me.
It is my hope that Madam Kwan's valuable works can be displayed and be made known to everyone in Singapore.

Wendy Toh is the goddaughter of Madam Kwan Shan Mei. She can be reached at [email protected].

Next essay:
Lucid Dreams of Kwan Shan Mei