This year, AFCC 2017 is proud to launch the following publications:


To Japan, With Love: A Collection of Short Stories Inspired by a Visit to Japan
NBDCS staff and 23 writing/illustration students from Hwa Chong Institute, LASALLE College of the Arts, Nanyang Academy of Fine Arts, Singapore Polytechnic, School of the Arts, Singapore, and Temasek Polytechnic visited Tokyo and Hakuba Village, Nagano Prefecture in Japan from 13 – 20 December 2016.
The JENESYS2016 programme was organised by the Japan International Cooperation Center (JICE) and fully sponsored by the Japanese government. The Singaporean students learnt about the culture of Japan, interacted with Japanese students and people and developed picture book story ideas on the theme of 'Best friends and culture'. The students also visited the Chihiro Art Museum, Hakuba Village Office, Hakuba High School, National Diet Library and spent two nights at homestays in Hakuba Village.
NBDCS Director Kenneth Quek and a JICE coordinator facilitated a three-hour workshop for the Japanese and Singapore students. The students shared about children's stories which were popular in their respective countries and created new story ideas. The Singaporean students wrote and illustrated storyboards and began work on their picture books which they would complete in Singapore.
This book is the culmination of their work and can be downloaded here.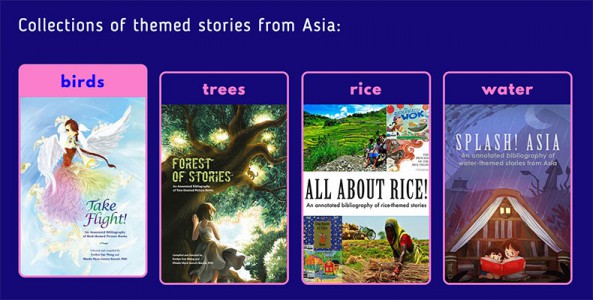 Themed Picture Book Bibliographies
We are introducing a new website, Themed Picture Books, where you can find the picture books listed in these bibliographies. If you would like to recommend titles to be added to this website, please share with us there!