Parents Forum
National Library Building,

Singapore

Date:
21 May 2017 (Sunday), 10:00am – 5:00pm
For:
Parents, librarians, principals and primary, preschool & kindergarten teachers.

Registration:
Full-day Pass S$ 80
Individual Sessions Pass S$ 20/session
Full Festival Pass S$ 500
Note:
Lunch and tea breaks are included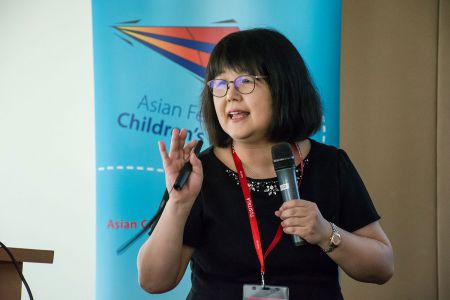 Theme – The Growing Years: Growing and Becoming Literate Today
The AFCC Parents Forum offers parents, teachers, and other related professionals the opportunity to get support, information, and advice on nurturing early learning and bilingualism at home.
10:00am – 11:00am

B1, Multi-Purpose Room
Pre-school
Look, Listen and Repeat: How to Un-read Books with Your Child
Angela Cerrito (SCBWI Assistant International Advisor and Author)
Move beyond memorisation to using books as windows into the imagination. Imaginative play is an important step in cognitive development. Learn how to un-read books in order to develop your child's imagination.
L5, Possibility Room
Pre-school
Primary
Visual, Verbal and Cultural Literacy in the Art Museum
Wang Tingting (Museum Educator, Singaport Art Museum), Stephanie Wong (Graphic Designer, Singaport Art Museum), John Tung (Assistant Curator, Singapore Art Museum)
When art meets the written word, the storytelling experience becomes more interactive, even whimsical. Glimpse into how visual, verbal and cultural literacy is encouraged through tactile interactive artworks at the Children Season's exhibition, Imaginarium, at the Singapore Art Museum.
L1, Visitors Briefing Room
Pre-school
The Great Gift of Reading Aloud
Suzanne Jung (Passionate Educator & Student of Life)
One of the single most important activity a parent can do to help their child cultivate a lifelong desire to be readers and learners. Listen to Suzanne Jung's experience making the most of read aloud time at home, and how that has helped her children.
11:15am – 12:15pm

L5, Possibility Room
Pre-school
Primary
If You Can't Imagine It, You Can't Be It
Kari Love (Creative Technologist & Soft Roboticist), Kim-Chua Loo Huang (Assistant Professor, Embre-Riddle Aeronautical University )
"What do you want to be when you grow up?" Two speakers discuss this question with new lenses. Kari Love talks about how real job paths can be stranger than fiction, and that it is necessary to broaden futures children can imagine for themselves, while Professor Kim-Chua debunks female stereotypes in literature to inspire more girls to join Science, Technology, Engineering and Mathematics (STEM) fields.
L1, Visitors Briefing Room
Pre-school
Primary
A Mammoth Task: Encouraging Reading in the Digital Age
Elaine Fong (Teacher Librarian, Chatsworth International School Orchard Campus)
Elaine will go over the key points she uses as a teacher librarian to encourage reading among students. She will also highlight the pitfalls and challenges that parents should be aware of. This session will provide anecdotal and research based strategies on how to encourage reading.
1:15pm – 2:15pm

L5, Imagination Room
Primary
Saving the World: Character-Building with Comics
Rizqi Rinaldy Mosmarth (Author, Illustrator, Editor, Publisher, Teacher)
Rizqi dispel myths that comics are only for entertainment. Examine the potential of comics with Rizqi, who works with non-profit organisations to create comics for character building.
L1, Visitors Briefing Room
Pre-school
Primary
The Kumon Recommended Reading List (RRL) – To Develop a Lifelong Reader
(For 4-6 years, 7-9 years)
Allan Menagh (General Manager, Kumon Asia & Oceania)
The Kumon RRL is a comprehensive list of 380 global titles spanning varied genres and styles for Kumon families to find books they will enjoy – for both young and mature readers alike. Allan will be sharing ideas on how to inspire in children a lifelong love of reading, with the use of the RRL.
2:30pm – 3:30pm

L5, Possibility Room
Pre-school
Primary
[PANEL] Creative Parents Parenting Creatively
Rilla Melati (Director, Creative Content Development, Mini Monsters Limited), Don Bosco (Founder, Super Cool Books), Vijayanand Thamotharan (Director, Crimson Earth)
Get ideas and tips from speakers, Don, Vijayanand and Rilla, as they discuss how they encourage their children's creativity to blossom.
L5, Imagination Room
Pre-school
Primary
Themed Stories from Asia and Beyond: Discovering Hidden Treasures
Evelyn Sue Wong (Author), Myra Garces-Bacsal (Educator, Reviewer, Blogger)
A new interactive website is offering an exciting resource for teachers and parents, with a themed collection of over 300 children's picture books about water, rice, trees and birds from Asia, and around the world. Explore how the collection has been used in student projects and performances, and its potential to engage young readers in discovering the unique and the universal in Asian literature, culture, heritage, and our natural environment. Dr Myra and Evelyn have been involved in this ongoing project and journey of discovery since it was launched at AFCC 2012.
B1, Multi-Purpose Room
Primary
Just-A-Minute Skits and Nonsense Verse: A Whacky Combo
Mary George (Editor and Child Development Consultant, News For Kids)
Do your children dread creative writing? The rhythm and rhyme of nonsense verse might work wonders and make writing irresistible. Using the whimsical poems of Dr Seuss, Edward Lear and Lewis Carroll as a starting point, Dr Mary George expands on how nonsense verse packaged into Just-a-Minute (JAM) skits can help students have fun with language.
4:00pm – 5:00pm

L5, Imagination Room
Pre-school
An Author, a Teacher, and an Amazing Sarong
Quek Hong Shin (Freelance Graphic Designer/Illustrator), Beth Fredericks (Executive Director, Wheelock College-Singapore)
Children's literature is a window to the multi-cultural and diverse world. In today's turbulent world, it is especially important to select stories for the young that promote empathy and an appreciation for diverse cultures. The speakers will use the book The Amazing Sarong for a show-and-tell session to introduce a unique way of telling the story and make learning fun.
Note: This is a 90-min session.
L5, Possibility Room
Pre-school
Primary
Throne-Time Storytelling
Nora Crothers (Director, inwardBOUND)
This workshop is all about creating stories with your little one. From throne time to story-time, Nora will explore different methods to effortlessly incorporate creativity into your routine, lifestyle and relationship with your child. Through play-making and visual prompts, you can help your child to create an imaginative tale.
Note: This is a 90-min session.
L1, Visitors Briefing Room
Primary
Have Fun Learning with Dictionaries: A Hands-On Workshop by Dr Fukaya
Keisuke Fukaya (Professor, College of Contemporary Education, Chubu University)
Parents, explore a new and popular method in Japan to help your children learn new words. Using post-its, Dr Fukaya will lead you through this visual method, which will help your child enjoy learning new words and become more active in reading!
What Past Speakers Say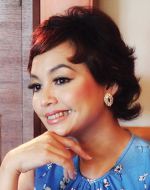 Mini Monsters Ltd has been a part of AFCC for the last 4 years and we are thrilled to be a part of this festival again in 2016 to take Singapore's Malay children's content to the world's children!
Rilla Melati
from AFCC 2015
Director, Mini Monsters (Singapore)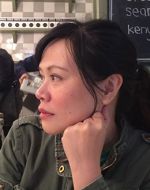 A fun session filled with practical tips from an established children's book editor.
Felicia Low-Jimenez
from AFCC 2016
Co-author of the Sherlock Sam series (Singapore)