Chinese Programmes
| | |
| --- | --- |
| Date: | 14 – 15 May 2016 |
| Venue: | Bishan Public Library, Programme Zone |
| Registration: | Free! Registration Required |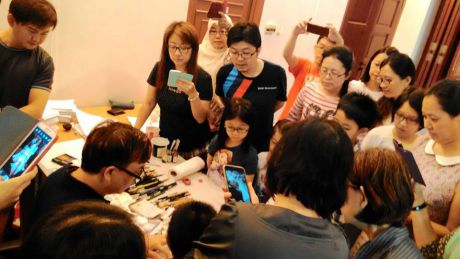 14 May 2016 (Saturday) Bishan Public Library, Programme Zone
11:00 am - 12:30 pm
Making Parent-Child Reading Fun!
(For 7-9 years)


快乐亲子阅读

Liang Huiyu (Founder, Sprout Language Centre)

Reading with your child can be extremely rewarding! Join us for an engaging session of storytelling, and learn how to incorporate fun learning activities into your daily parent-child reading routine.

亲子共读有助于促进亲子关系,也能间接提高孩子的各方面能力。家长可以如何亲子共读成为好玩的事呢?此活动希望能通过现场示范故事导读,并设计适合亲子共同参与的读后延伸活动,让家长和孩子共一起边玩边学!
3:00 pm - 4:30 pm
Appreciating Crosstalk 相声欣赏
(For 7-9 years)
Kow Xiao Jun (Young People's Performing Arts Ensemble) (Mandarin Theatre Arts Company )
Immerse the children in laughter and appreciate the beauty of Crosstalk! Showcasing several crosstalks, YPPAE will also conduct simple, interactive and engaging workshops for your children where they can learn the basics of Crosstalk.
相声是什么?青少儿广播演艺组将会带来几段轻松有趣的相声节目,让孩子们接触并浸濡于相声的美妙和欢笑中。通过一些简单的活动,让孩子们对于相声有个基本的概念!
15 May 2016 (Sunday) Bishan Public Library, Programme Zone
11:00 am - 12:30 pm
Picturebooks: Fly with Your Imagination!
(For 4-6 years)


绘本:让想象力陪你一起飞翔!

Ace Khong (Multimedia Designer, illustrator)

Ace Khong will share about two of his picturebooks and lead children into the wonderful, imaginative and awesome world of picturebooks. Children can gain tips and learn how to create their own picturebook in this workshop!

小邝老师将会为孩子们导读他的两本儿童绘本创作, 引领着大家一起进入充满想象力且奇妙美好的绘本创作世界中。同时,孩子们更可以通过这次活动,了解更多关于绘本创作的知识和窍门。
3:00 pm - 4:30 pm
Storytelling and Hanyu Pinyin
(For 4-6 years)


讲故事 与 汉语拼音

Sin Joo Ee (Senior Lecturer, Early Childhood Education, SIM University School of Human Development and Social Services)

Learning Chinese is made easy with storytelling, rhymes and games with Dr Sin! Don't miss this session where your children can:
Understand the story and answer the questions.
Read and recognise Chinese Characters in the story, understand the meaning, as well as the basic structure of the Chinese Characters
Learn to pronounce "iɑn" and able to recognise and read"jiɑn "and"biɑn"
Role play and practise dialogue in the story
Work with and share well with their peers
理解故事并能回答所提问题
能认读故事中的部分汉字,了解其意义,以及基本的汉字结构
学习"iɑn"的发音,认读"j iɑn"和"b iɑn"
扮演故事中角色,练习对话
能与同伴合作、分享,共同完成游戏